These top journalists have covered the social audio space and delivered high-quality coverage about social audio, Clubhouse, Twitter Spaces, and more. If you are interested in this new and emerging space, start paying attention to these journalists.
To see their latest Tweets, I create this HR Influencer Twitter list.
Scroll down to see my curated list of social audio journalists. You might say that some are Clubhouse influencers, but … whatever.
Clubhouse is like a never ending SxSw. Panels, discussions and conversations 24/7 covering just about any topic under the sun–Bitcoin, AI, Fashion, Design, Entrepreneurship, Startups and more. It's the perfect storm of thought leaders, journalists, activists, technologists and cultural leaders coming together to discuss… everything.

Since early 2020, there's been over 10K articles covering social audio and 1M mentions across social media and Reddit. There are no signs of the hype and earned media coverage slowing down.
A few weeks ago, I analyzed the trending topics on Clubhouse to get a more clear view as to the specific topics that were top of mind for the online community. I also compared the Clubhouse audiences from the early adopters of last summer to the more recent explosion of users over the holidays. It's been fascinated to watch the growth, adoption and changing dynamic of this space, in near real-time. Here's more Clubhouse news if you're interested.
I've also been following traditional media, specifically the top journalists that are covering the social audio space. Below is a curated list of several social audio journalists that I personally follow based on the quality of content they publish into the market place. Interestingly enough, many of them are also Clubhouse moderators.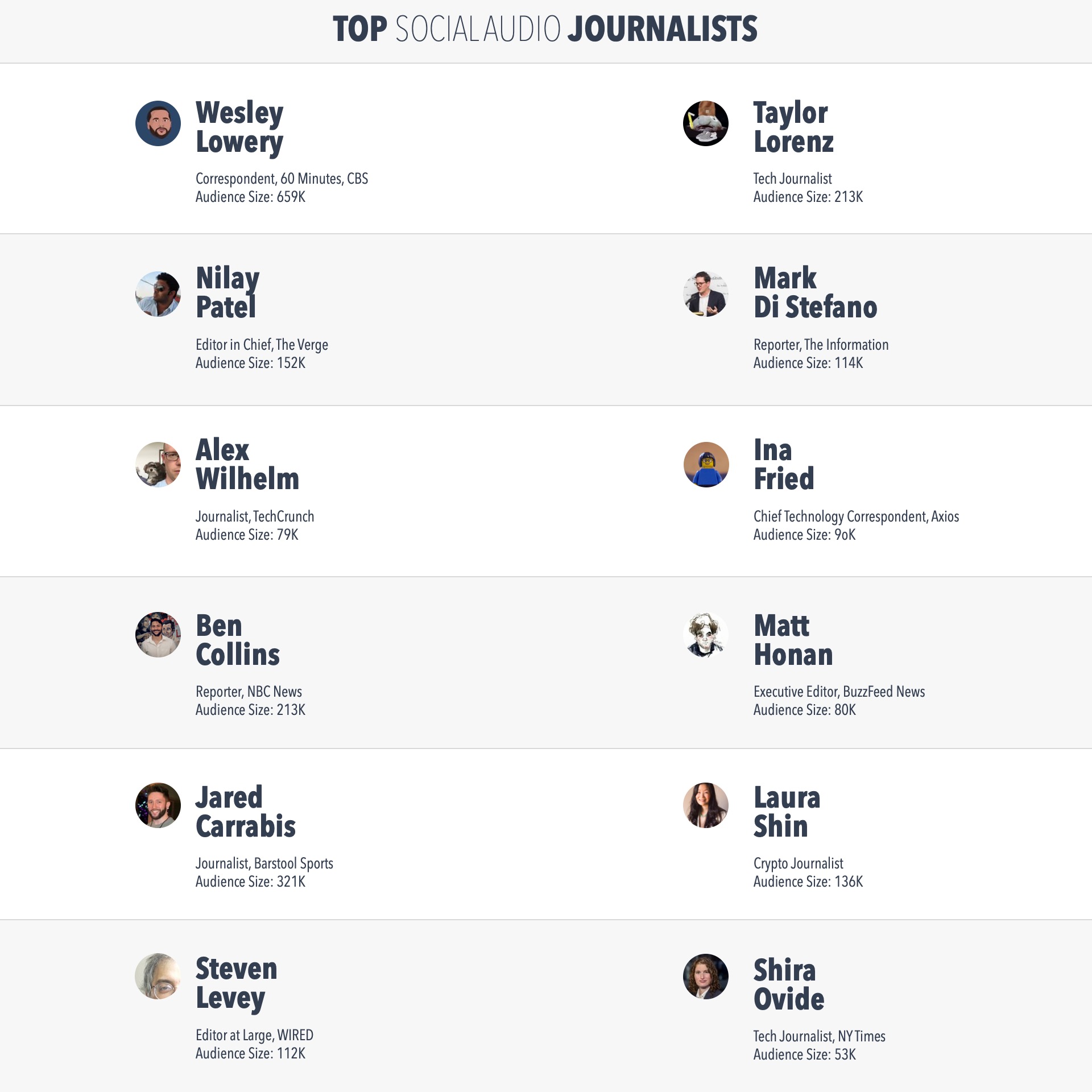 I highly suggest you follow these journalists for the latest innovations and insights into the social audio apps space. If you work in PR, you should add them to your media list. I also curated a list of social audio influencers (many of them are non-media influencers) so you can see the diversity of industry leaders that are driving the narrative outside of traditional media.
Sometimes I get asked about the "Meltwater vs Brandwatch" comparison when pulling this type of data. I'll just say that they don't do the same thing and could be complimentary to each other.
I often talk about topic such as this on my YouTube channel so please subscribe if you'd like to be notified of new videos about influencer marketing, social analytics or audience intelligence.