Scroll down to see the list of digital transformation influencers.
Digital transformation is not just a buzzword used by industry pundits. It describes an evolution of digital software technology And how large and small businesses are adopting this technology to innovate their products, solve business problems, and automate mundane business processes.
At times, the context of digital transformation changes based on who is using the term and where they sit in the larger organization. For example, HR leaders talk about digital transformation through the lens of employee engagement and/or HCM software. When the CMO talks about digital transformation, they are most likely looking at it through the lens of using marketing technology to improve the customer experience and drive sales.
Some groups emphasize more of the software, while others are more focused in on change management. At the end of the day, it's a combination of both. I found the below graphic that articulates a little bit of what I'm talking about and all the things that are considered when deploying a digital transformation strategy.
When looking at the digital transformation influencers below, you'll notice that of them are analysts, consultants or work in some type of advisory role. While there are a lot of other influencers in the market who talk about digital transformation, I believe it's most important to follow those who are counseling large organizations or facilitating research about various digital transformation journeys.
When measuring influence, I like to consider four data points combined into an algorithm that weights each one:
Reach: How large is the collective audience across all of the social media channels that influencers have and participate in?
Relevance: How often are they referencing a specific topic and are they considered an authority in the space?
Resonance: When they post content across their social media channels , specifically about the topic, is it resonating with their audience? In other words is it being shared, liked, retweeted, or commented on?
Reference: Are the influencers being referenced by other, third party influential voices in the marketplace? If so, by whom and how often?
For your convenience, we put together this digital transformation influencer list on Twitter so you can easily follow their conversation and try to understand what is top of mind.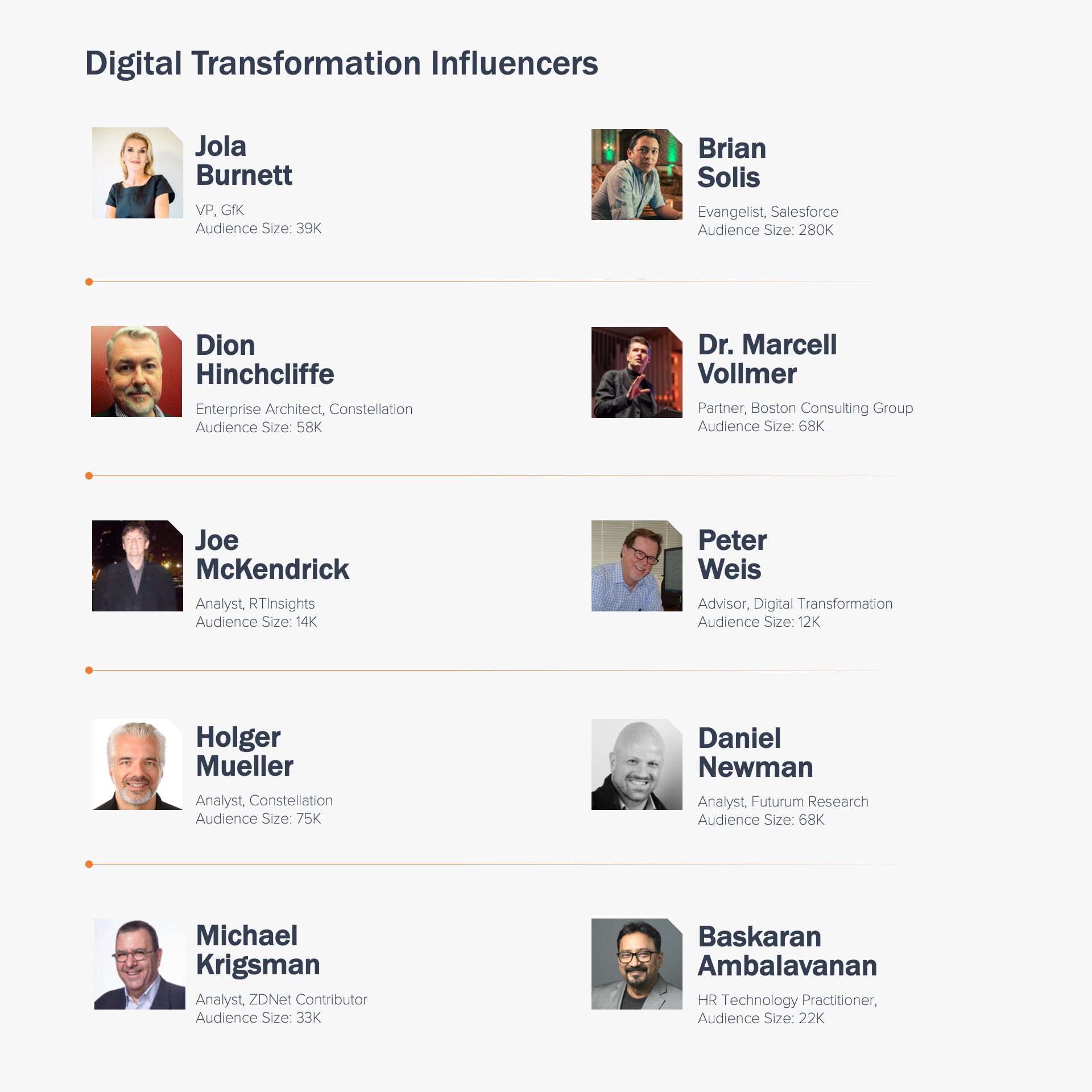 Here are a few other technology influencer lists that have been manually curated in case you are interested:
Please don't take my word on whether or not these are the top digital transformation influencers. I would suggest to use this list as a starting point, and do your own influencer analysis using a combination of technology provider and some math. I recommend Onalytica, they are the leading influencer software provider.
---
I talk a lot about managing and deploying influencer marketing programs on my YouTube channel and it's not just theory or ideas. It's all based on real life experience, testing and learning, and sometimes failing when working with various influencer groups.