Scroll down to see the list of digital transformation influencers.
Background on Digital Transformation
Digital transformation is not just a buzzword used by industry pundits. It describes the evolution of digital software technology And how large and small businesses adopt this technology to innovate their products, solve business problems, and automate mundane business processes.
At times, the context of digital transformation changes based on who is using the term and where they sit in the larger organization. For example, HR leaders talk about digital transformation through the lens of employee engagement and HCM software. When the CMO talks about digital transformation, they are most likely looking at it through marketing technology to improve the customer experience and drive sales.
Some groups emphasize more of the software, while others are more focused in on change management, and there's an entirely different category of change management influencers. At the end of the day, it's a combination of both. I found the below graphic that articulates a little bit of what I'm talking about and all the things that are considered when deploying a digital transformation strategy.
The Digital Transformation Market
Recently I shared a media and influencer analysis of digital transformation influencers – the term that most B2B and technology brands want to align themselves with that describes the evolution in business. The term itself has exploded in usage and search behavior over the last 5 years–check Google Trends below:
For marketers, understanding what media publications driving the narrative is valuable, and monitoring key influencers can produce actionable insights. What I find to be a little more of a priority than a media and influencer analysis is a true, unbiased deep-dive into your audience. And I'm not talking about a makeshift persona you created from a Hubspot template. The question you have to ask yourself is, "does my audience even read the media publications driving the narrative?" or better yet, "does my audience follow or care what influencers even say?"
The only way to answer that question is through audience intelligence.
That said, I wanted to find out a little more about the audience behind digital transformation. The data from this analysis was pulled from Audiense, a leading audience intelligence platform. While most analytics platforms can organize and manage unstructured data, an in-depth human analysis is required to filter through the information, look for patterns and formulate actionable insights.
There were 7.2K unique social profiles collected based on the digital transformation conversational analysis. The data was collected, organized and put through machine learning algorithms to find unique interests and characteristics.
This data, while only directional, is critical to drive marketing and communications programs, campaigns and day-to-day content initiatives.
Digital Transformation Influencers
When looking at the digital transformation influencers below, you'll notice that of them are analysts, consultants or work in some type of advisory role. While there are a lot of other influencers in the market who talk about digital transformation, I believe it's most important to follow those who are counseling large organizations or facilitating research about various digital transformation journeys.
When measuring influence, I like to consider four data points combined into an algorithm that weights each one:
Reach: How large is the collective audience across all of the social media channels that influencers have and participate in?
Relevance: How often are they referencing a specific topic and are they considered an authority in the space?
Resonance: When they post content across their social media channels , specifically about the topic, is it resonating with their audience? In other words is it being shared, liked, retweeted, or commented on?
Reference: Are the influencers being referenced by other, third party influential voices in the marketplace? If so, by whom and how often?
For your convenience, we put together this digital transformation influencer list on Twitter so you can easily follow their conversation and try to understand what is top of mind.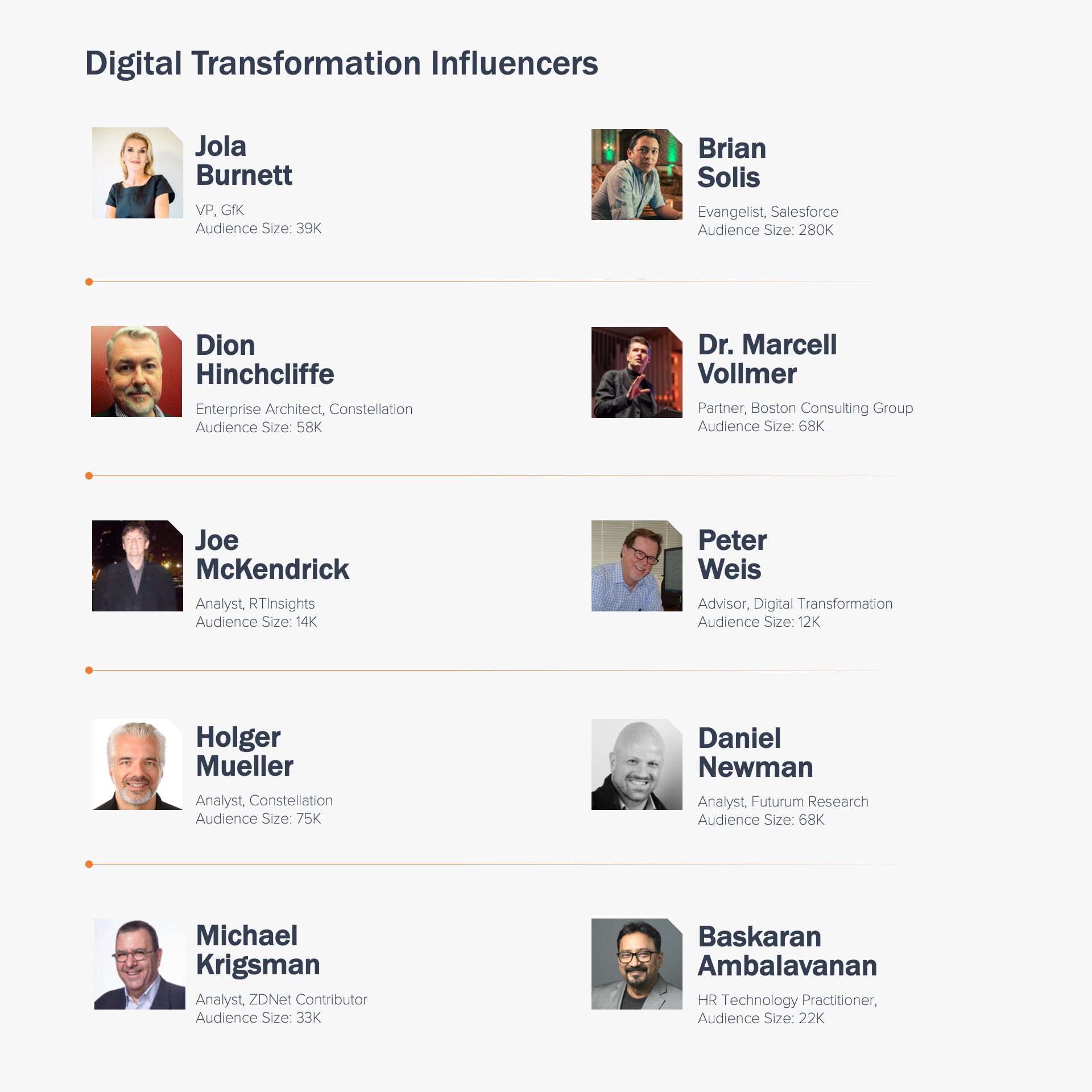 Other Technology Influencer Lists
Here are a few other technology influencer lists that have been manually curated in case you are interested:
Please don't take my word on whether or not these are the top digital transformation influencers. I would suggest to use this list as a starting point, and do your own influencer analysis using a combination of technology provider and some math. I recommend Onalytica, they are the leading influencer software provider.
---
Take a look at these B2B social media marketing best practices. It's a guide that will  help you use data and document the right plan to grow your business on social media.
Please consider subscribing to my influencer marketing YouTube Channel where I post 2-3 videos per month or connect with me on Twitter or LinkedIn.