Content is critical for all brands. It's the building block of your B2B content marketing strategy and should be prioritized like every other critical business decision.
The days of posting an image with your CEO's headshot and a quote from Forbes are long gone. And if you're still posting press releases on social media, that needs to be stopped immediately. Instead, B2B customers and buyers want insights into how products and services can help them solve technology challenges and achieve their business goals.
This post will highlight the importance of data-driven insights to inform a B2B content strategy and show real examples of making it happen.
What is a B2B Content Marketing Strategy?
A B2B content marketing strategy is a roadmap to how enterprise brands will create, distribute, and promote content across digital channels.
Most of the time, the content strategy is owned by an internal content or editorial team, and it's usually a subset of a larger digital marketing strategy. This could get confusing if you've never worked for a large company. The CMO will typically require each internal team to build quarterly or annual plans integrated into a larger marketing strategy. After that, each team would go off independently and develop their strategy separately.
PR would work with their agency to identify target media, events, and executive communications with a messaging strategy. The demand gen marketing team creates a series of lead gen programs and campaigns with targeted creative, media planning, and other direct marketing tactics. The event marketing team will plan for their annual customer event and determine which industry events to sponsor and attend. Usually, the social media team will input these separate plans unless it's a more sophisticated enterprise company. If that's the case, the social team will create a B2B social media plan. And lastly, the content team will determine which assets will be made for the year. Most likely, they will be responsible for all the branded owned media channels, so part of their plan would include a B2B SEO content strategy.
It's not uncommon for the content team to collaborate across all these other teams since their content will be used in different ways to support each marketing activity.
B2B Content Marketing Starts With a Strong Narrative
I've seen this happen a million times. Brands will start the B2B content creation process and map out all the digital assets they will create for the year. They're planning for eBooks, white papers, a series of blog posts, reports, and videos.
They're creating a strategy to determine which assets will be gated and which ones won't require an email address to download.
They are hiring agencies to produce all these high-quality, high-value digital assets. The creative is stellar. Each digital asset is "on brand" and maps to a strategic content pillar, a product launch, an event, or a campaign. The B2B content strategist will then work with the other marketing teams and map out a content distribution strategy for each channel.
One fundamental step that B2B content marketing teams fail to do is build a narrative informed by insight and audience data. Maybe it's an oversight. They don't know what they don't know. Maybe they forgot. Or maybe, they don't care.
It's no wonder why marketers are confused about why their content is not performing effectively. They went through all the proper steps to create their messaging, map out their content, and integrate globally with marketing teams. The problem is that the content, the narrative, and the story are self-serving. It provides very little value to B2B buyers and other audiences.
One of the most innovative ways to build a content strategy for enterprise businesses is to use audience data and B2B content analytics. The insights from this analysis will help inform a narrative that is relevant to the audience you are trying to reach and in alignment with your brand message.
Defining Your B2B Content Marketing Strategy Goals
Defining your digital content marketing strategy goals is critical to reaching audiences with stories that break through the clutter and drive impact. The 2021 State of Digital Content Report from Altimeter provides insights on how to think about this framework.
The Altimeter study asked the question, "What is the primary goal of your digital content marketing strategy?" I wasn't as surprised with the answers as I was with the percent distribution:
35% Create brand awareness
28% To position the brand as thought leaders
16% Provide customers with helpful information
15% Generate leads
7% Support sales
I would have thought the priority of defining content marketing strategy goals and measurement would have been more focused on sales enablement, ROI, generating demand, or mapping content to the B2B sales funnel.
Part of me suspects that the respondents worked in diverse job functions, ranging from public relations to marketing. This might explain why many survey respondents were focused on top of the funnel content marketing goals.
What's important is that your content strategy goals should be integrated so that the tactics can purposefully drive users through the buyer's journey. This would address top-of-the-funnel metrics like brand awareness and thought leadership and bottom-of-the-funnel metrics like leads and sales.
One thing that stood out to me in the report was providing customers with helpful information. And if you think about it closely, it makes perfect sense.
Documenting all the reasons why your customers are calling into the call center and then creating content that matches those inquiries is genius. Not only are you providing content that addresses customer needs, but you will also own the search results for those search queries as well, giving you the opportunity of converting those users into customers. This is the perfect example of using data-driven insights to inform a B2B content strategy and plan.
I was surprised to see that supporting the sales team was a low priority in defining content goals. I have worked with several sales teams over the years, and one thing is consistent. They are starving for more thought leadership content that they can use to share on their social media channels and for other social selling initiatives.
This should be a priority for content marketing teams as it aligns directly with substantiating an ROI metric.
Using Data-Driven Insights for Content Strategy for B2B
If the content is king, then data is the kingdom. In the B2B ecosystem, data is now a required part of a content marketing strategy for several reasons.
First, the complexities of the B2B purchase cycle mean that it's not enough to put content marketing plans together with proper planning. Instead, companies must now use data-driven insights to learn more about their audience and create content that will impact purchasing decisions.
Second, B2B companies need to track their content performance within digital channels before committing more resources.
Third, potential customers receive information from multiple sources within the buyer journey. They use search engines to research, read white papers Reddit threads, watch YouTube videos, and engage with other buyers online. And since the buyer journey can be 6-18 months, B2B marketers are now tasked with catering to a highly educated audience about technology. This means that they must bring value when posting content or engaging with their prospects or be at risk of being criticized publicly.
The most important question you must ask is, "Is my B2B content strategy targeted enough to break through the clutter, reach my audience and create demand for my business?" If you can comfortably answer that with a yes, you can stop reading this post now. If not, then let's keep going.
Here's a B2B example of using data-driven insight about a software engineer audience.
B2B Example of Data-Driven Insights
We recently built an audience of about 53K software engineers and used a segmentation methodology to cluster them into smaller sub-segments. The segments were clustered based on shared bio terms, unique interests, characteristics, and specific demographics.
One segment self-identified as interested in or currently using Python and Machine Learning for software development. We examined the data to see if we could extract any specific insights that might help inform our B2B content strategy.
The buying mindset was explored using affinity data to see how this segment of developers is influenced to buy products and services. The data shows that the top two factors influencing this audience are their peers & colleagues and product utility.
We uncovered the top influencers for each developer segment, not topical-based influencers but other influential developers and engineers. Then, we combined that data with their unique media affinities. This data tells us what media publications they read and share with their communities.
Looking at this data, you can piece together how impactful data-driven insights can be when rigor is applied to an influencer content strategy.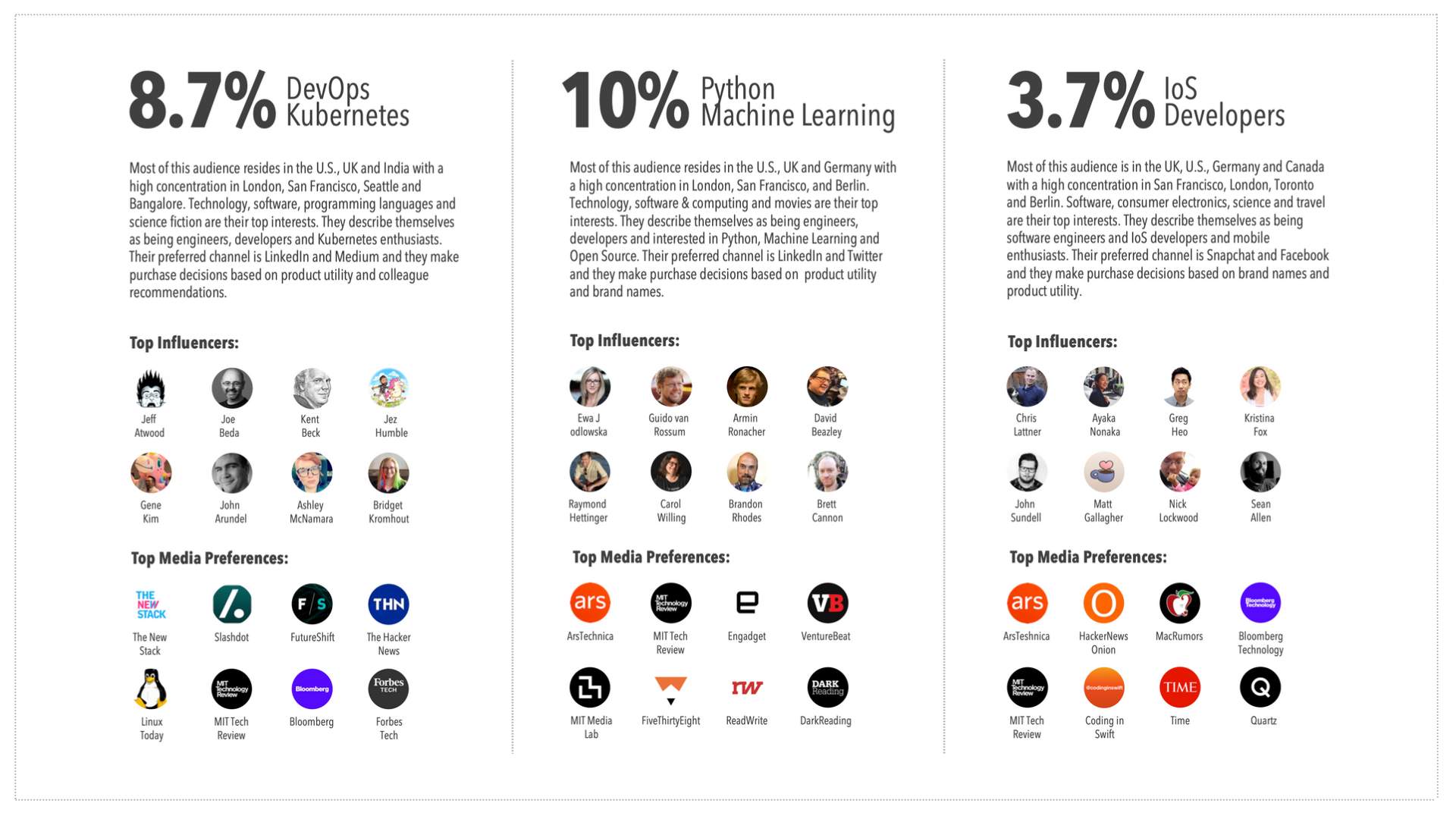 Not all B2B audience data is based on follower relationships of affinities. Affinity data is calculated based on the percent of an audience that follows a media publication, brand, or influencer. The challenge with this data is that it's dated and may not reflect what is currently relevant to an audience.
One way to understand what's top of mind for an audience is to analyze their social media mentions over time and in real-time. It's important to reiterate here that the key to a successful B2B content strategy is audience research, so this isn't a "nice to do if you have time." However, skipping this step could mean the difference between hitting your marketing KPIs and not.
There will be situations in every analysis where you may have to leverage primary or secondary research to validate an existing hypothesis or come up with a new one. For example, during this analysis, we came across an article about the top trends in 2020 for software developers. One interesting trend was that Python was becoming the preferred language of developers and that JavaScript was slowly declining. We used this insight to start the social media data mining process.
After writing the Boolean queries, we wanted to interrogate the data to understand if software developers talked about anything specific to Python and Machine Learning. Even if it was just a tiny nugget of information that might help use these data-driven insights to inform a more targeted B2B content marketing strategy.
The below conversation analysis reveals some interesting insights about this audience.
On the left are all the social media conversations from this audience about Python programming. All the discussions from the same audience about JavaScript are on the right. To make sense, you must read each analysis separately at first. Starting with Python, there are five core subtopics that developers are talking about related to this:
Programming
Data Science
Machine Learning
Linux
Python 3
Each of these Python subtopics is colored in a different shade of red, emphasizing the size of the conversation. For example, programming almost accounts for 50% of the conversation. by looking at the subtopics clockwise, the size of each one becomes relatively smaller. In other words, while programming is the most critical conversation, Python 3 is the smallest.
There is a secondary layer on the outside ring of these five topics. By digging a little deeper within that programming topic, you'll notice keywords like learning, beginners, project, and tutorial. This tells me that a subset of these engineers are learning Python and talking about courses they are taking on Udemy.
Instead of reading through 100K social media mentions to get to those data-driven insights, clustering the conversation like this saves time and reveals potential white space. These are all the keywords, phrases, language, and hashtags developers use when engaging on social media. This is a significant insight for marketers because this type of information can inform a B2B content strategy.
Audience Data is Critical for a B2B Content Marketing Strategy
Similar to the above snapshot of a buyer persona looking at the top three software developer audience segments, below is a deep dive into just one of them. As a reminder, this B2B audience data does not consider all developers; in fact, it's not until you compare one segment to another that you realize how different they are.
I will not talk to each data point, but I will cover a few that I believe are 100% actionable and can be used to inform a B2B content marketing strategy. This data is based on follower relationships and then calculated against a general business index. There are some areas where we used conversation data.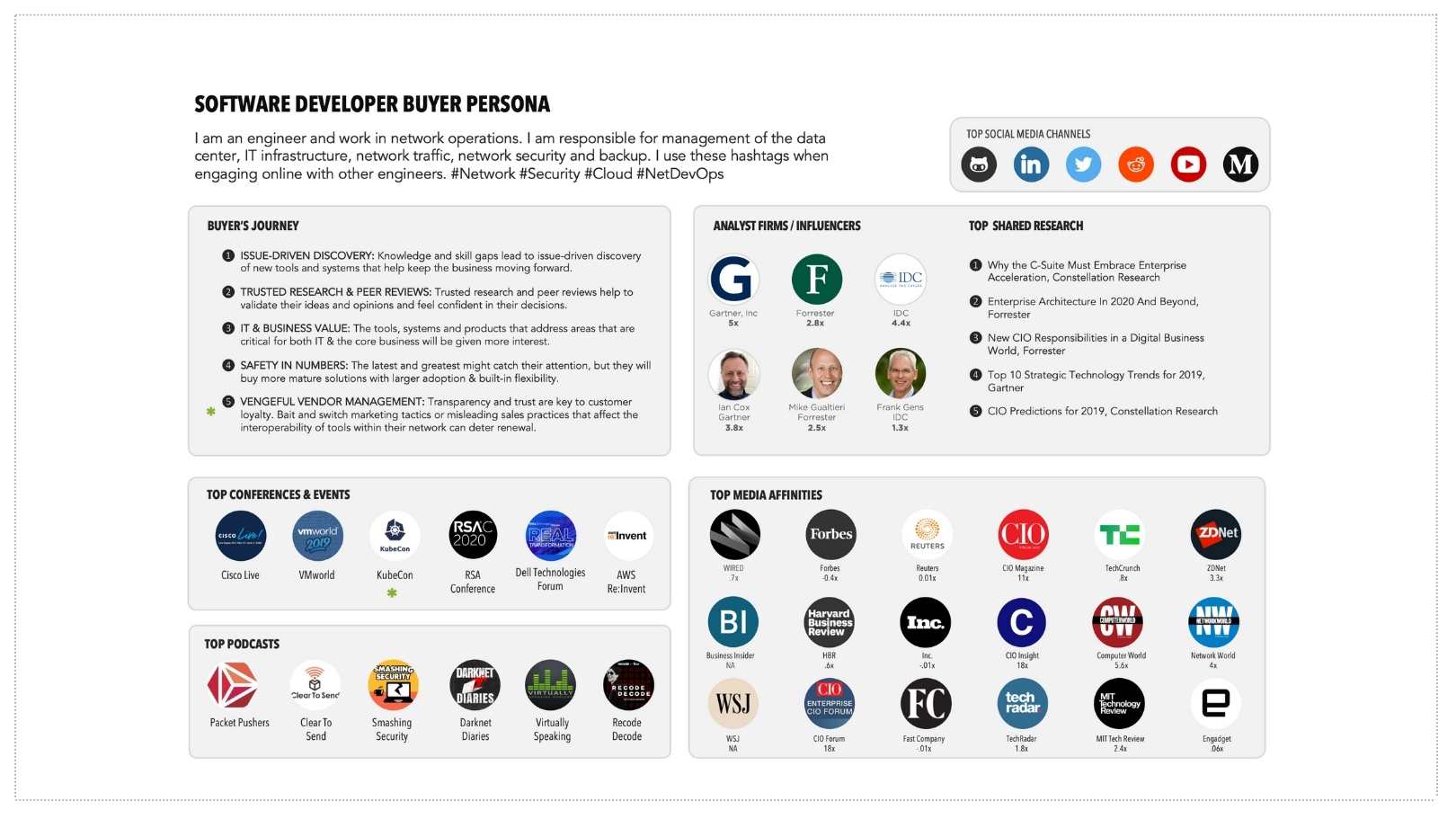 Buying mindset: What this tells me is that the top 2 characteristics that drive purchase are the utility of a product and word of mouth. Product utility can help you formulate a narrative that positions your product's usefulness to the software development process. The second point tells me that if your customers are Python developers, it might make sense to formalize an influencer program, customer advocacy program, or both.
Buyer's Journey: This section of the buyer persona represents the segment's conversational patterns related to the purchase funnel. 
Issue-driven discovery:

Knowledge and skill gaps lead to the issue-driven discovery of new tools and systems that help keep the business moving forward.

Trusted research & peer reviews:

Trusted research and peer reviews help validate their ideas and opinions and feel confident in their decisions.

IT & business value:

The tools, systems, and products that address critical areas for both IT & the core business will be more interesting.

Safety in numbers:

The latest and greatest might catch their attention, but they will buy more mature solutions with more extensive adoption & built-in flexibility.

Vengeful vendor management:

Transparency and trust are crucial to customer loyalty. Bait and switch marketing tactics or misleading sales practices that affect the interoperability of tools within their network can deter renewal.
Top Social Media Channels: It's intuitive that software developers use GitHub and read various posts on Reddit. But it's also good to know which social media channels they are using when having conversations about other technology platforms and general topics.
Top Communities & Conferences: This might not be useful as you develop your B2B content strategy, but it is helpful to understand which conferences and events software developers are attending and which ones they're talking about.
Top Podcasts: This data can be helpful for demand gen marketing teams and inform specific media placements. Based on the type of podcast, it can also notify clear messaging. If you have executives or influencers that are a part of the LinkedIn Podcast Network, you'll want to ensure that you are capturing all the right metrics to ensure success in this media platform.
Top Analyst Firms: A few sections should be explained in detail. The data highlights the leading analyst firms that the developer audience follows on social media. We've also extracted the top analysts as well. You'll notice that there's no direct one-to-one correlation between the analysts followed by the developer audience and the analyst firms. We also identified the top research reports shared by this audience through conversation and link share data.
Top Media Publications: The unique media affinities tell us which technology publications are most followed by this audience. This data here is all about your content distribution strategy. PR should be using this data to inform their media relations. Your digital marketing team can potentially buy media on these publications through the Google Display Network and a direct media buy or sponsorship.
Using data-driven insights to inform a content strategy for B to B and enterprise companies might sound complicated. That's because it is, and it's much work to ensure that you are using the correct data to inform the right narrative, create the right content, and engage in the right channels.
---
B2B Content Marketing Strategy FAQ (Frequently asked Questions
What are B2B Content Marketing Best Practices?
The first best practice is to read this entire blog post. It gives you a detailed action plan on how B2B content marketing is managed within the enterprise and how to use data to inform a strategy.
In a nutshell, here are a few things to consider as a best practice.
Understand your audience: do as much research about your audience as possible. If you don't have advanced analytics tools, you may rely on primary or secondary research, analytics, or other published reports about the audience.
Build an inclusive narrative: When writing your brand narrative and key message points, remember that your audience isn't a big fan of marketing. Therefore, it's critical to weave in the topics and trends important to your audience with your brand narrative. It cannot be all about you. Your narrative must be about your customers and helping them solve their technology and business challenges.
Build a content distribution approach: Data-driven content marketing for B2B is the best approach. However, you must ensure that you distribute that content in the channels where your audience spends their time.
Define the right B2B content marketing goals: You must address everything at the top of the funnel and include non-financial metrics that align with brand awareness and thought leadership. It should also have bottom-of-the-funnel tactics and financial metrics like sales and ROI.
How important is SEO to a B2B content marketing strategy?
This is like asking how important oxygen is to breathe. SEO needs to be a strategic pillar in your B2B content marketing strategy. Going back to the buyers' journey, we know that decision-makers use Google constantly to look for information. It is table stakes that your content appears in the Google search results for targeted keywords and phrases. Otherwise, you are missing out on sales opportunities.
What is the difference between a content marketing strategy and a social media strategy?
A content marketing strategy focuses on the story, narrative, the digital assets that need to be developed, and in which format. While a social media strategy does account for this, it's more specific to the execution and considers all the channels, community engagement, customer advocacy, influencer marketing, and paid social.
Is a content strategy the same as content marketing?
Yes and no. Sometimes it's all about semantics and depends on who you ask. The most significant distinction between a content marketing strategy and a content strategy is that content strategy will inform everything from a communications and messaging framework. In other words, it goes beyond just marketing.