The B2B buyer's journey is unpredictable. Their behavior is dynamic and never routine. Some say this behavior is purposeful, but I'm not sure. I can see why some may feel this way, given that B2B buyers aren't huge fans of marketing, And I don't blame them. Nevertheless, B2B decision-makers are the most marketed segment on the Internet today.
Who are B2B Buyers anyway? 
Interestingly, the number of buyers in B2B markets is growing and changing. Seven years ago, in 2015, Google released a study in partnership with Millward Brown called "The Changing face of B2B marketing". Roughly 3,000 B2B buyers were surveyed about how they purchase software and use digital and social media channels. Google also analyzed a year's worth of clickstream data from Millward Brown Digital's desktop panel.
At that time, the results were surprising. I remember reading the report and sharing it with colleagues because no one thought millennials were a natural target for B2B marketing.
One of the report's biggest surprises was that nearly half of all B2B buyers are, in fact, millennials, and this was in 2015.
The report discusses how brands must go beyond the C-Suite when building a marketing plan and sales process targeting an inbound buyer's journey. I couldn't agree more. I have done a lot of work with the buyer journey mapping, and one thing is consistent. I have found that other internal stakeholders influence each buyer's journey stage.
I am also a B2B buyer. I have probably managed about a dozen or so software RFPs since 2006. The first one I was involved with was in 2006 when I worked for Intel. We were in the market for enterprise collaboration software when building our community platform strategy. At that time, there weren't many vendors in the space, and we signed with Clearspace, which then became Jive Software.
In the early days of social media, we also looked at software providers like Scout Labs, Radian6, Sysomos, and Collective Intellect for social media monitoring, publishing, and analytics. But unfortunately, none of those platforms exist anymore.
I have also gone through several RFPs for publishing and social CRM platforms like Sprinklr, Spredfast, Involver, and Vitrue. I also helped my clients navigate the employee advocacy space and helped them decide on platforms like Dynamic Signal.
My Buyer's Journey Stages Are Different Than Most
One of the advantages of my career is that I have been in the social media space for a long time. In fact, in my bio, I often say that I have been "building brands online since Al Gore invented the Internet." That's a joke. But, to give context, I first joined Twitter in 2007 and have been tweeting nonstop ever since.
Because I was an early adopter and user of social media, I knew many technology vendors in this space. So rather than downloading a white paper, filling out a form, reading a blog post from a SaaS provider, and going through the traditional sales process, I would typically tweet a colleague asking about a demo. I would usually get a response very quickly, take it offline and set up the meeting.
I would always ask for a 30-day or 60-day free trial access to the platform. After that, I wanted to get my hands dirty and test the software for as long as I could have access to it. My colleagues and I would like to joke around and say that we like to break the platform quickly. I want you to know that this isn't the typical B2B buyer's journey, but I am not your standard B2B buyer.
What is the Buyer's Journey? 
Most B2B buyers have a challenging time buying software. It's a 12 to18 month research and decision process before technology decisions are made, and there are a lot of hoops to jump through. Procurement always has issues. Sometimes there are security issues that need to be worked out. And often, there are other internal stakeholders that you need to collaborate with and achieve consensus.
A recent study by Gartner found several types of B2B buyers and that 77% of them rated their purchase experience as highly complex.
And there are a few reasons why.
Information overload. There's way too much information available on the Internet.
Collaboration isn't easy. There's not just one B2B buyer. Typically, 5-10 stakeholders must be part of the decision.
Buyer journey matrix. The buyer's journey isn't linear; it's dynamic and unpredictable.
In that same report, Gartner refers to the B2B buyer's journey as six buying jobs.
Problem identification. Someone identifies a problem and that new software is needed to fix it.
Solution exploration. A decision-maker asks if there is a software vendor that can help. If so, who are they, and how much do they cost?
Requirements building. It's documenting what we need the software to do and, more importantly, how it needs to work within our technology stack.
Supplier selection. It's testing the software to determine if it can do everything we need to do and more? If not, what can we live without, and what is mission-critical?
Consensus creation. This is probably the most difficult. How do we get all of the internal stakeholders to be on the same page about the software that we need any decision that we need to make?
These buying stages don't happen sequentially. They happen simultaneously, and Gartner calls this looping. These different buying jobs are going in and out throughout the sales funnel. I call this B2B buyer's journey research, or maybe the matrix is a better term.
How Much of the Buyer's Journey is Digital?
This is a good question. I would say that 99.9% of the buyer's journey is digital for several different reasons. First, as mentioned above, many B2B buyers are millennials and digital natives. They live and breathe on the Internet. They don't pick up newspapers, and they don't notice outdoor ads. Google is their homepage.
Secondly, today's culture is about mobility, apps, and access. Even with the pandemic, we want access to information quickly and efficiently, whether traveling or not. When traveling, we want the ability to access apps to help us with our everyday tasks, whether a ride to the airport, ordering takeout food, or grocery shopping.
Our culture today is digital. 100%. So is the buyer's journey.
What is Buyer Journey Mapping? 
Buyer journey mapping is an exercise of creating content and programs meant to intercept buyers as they are weaving in and out of the purchase funnel. Let's look at the buyer's journey below and read it linearly. You will see that the first thing a buyer goes through is realizing that they either have a problem or that there's an opportunity. Many refer to this as the awareness stage.
Product Differentiation: The discovery of software that offers more innovative solutions different from the existing platform.
Goal Alignment: The realization that there's a need to acquire software to help align with other internal business or technology goals.
Speed to Value: The realization that the current software stack is slow and not innovating, and the C-suite is pushing to see the value right away.
ROI: The realization that you need to see the ROI of your software investment sooner than later, and your given solution will never prove a tangible ROI.
Scale: The discovery of software will help scale the current martech stack and drive business growth.
Once the needs are identified, the rest of the buyer's journey is all over. Gartner calls it looping. It makes sense as much as that sounds like a science fiction movie, similar to the matrix. It's another way of saying that the buyer's journey is unpredictable.
Predictably, the B2B buyer spends most of their time researching information. So it would make sense for marketers to create relevant content that addresses each of the factors and pain points listed above. These are all buyer actions that you can use to create demand. You can create content related to each problem in your industry and then answer why your software can solve that problem.
There's an opportunity to create white papers, blog posts, and even social content that addresses these issues. It would also make sense to partner with influencers and co-collaborate on content. This could be a video series where influencers interview executives, existing customers, or partners. It can also be as simple as paying influencers to promote branded content on their social media channels. In all of these cases, it's about creating content at every B2B sales funnel stage.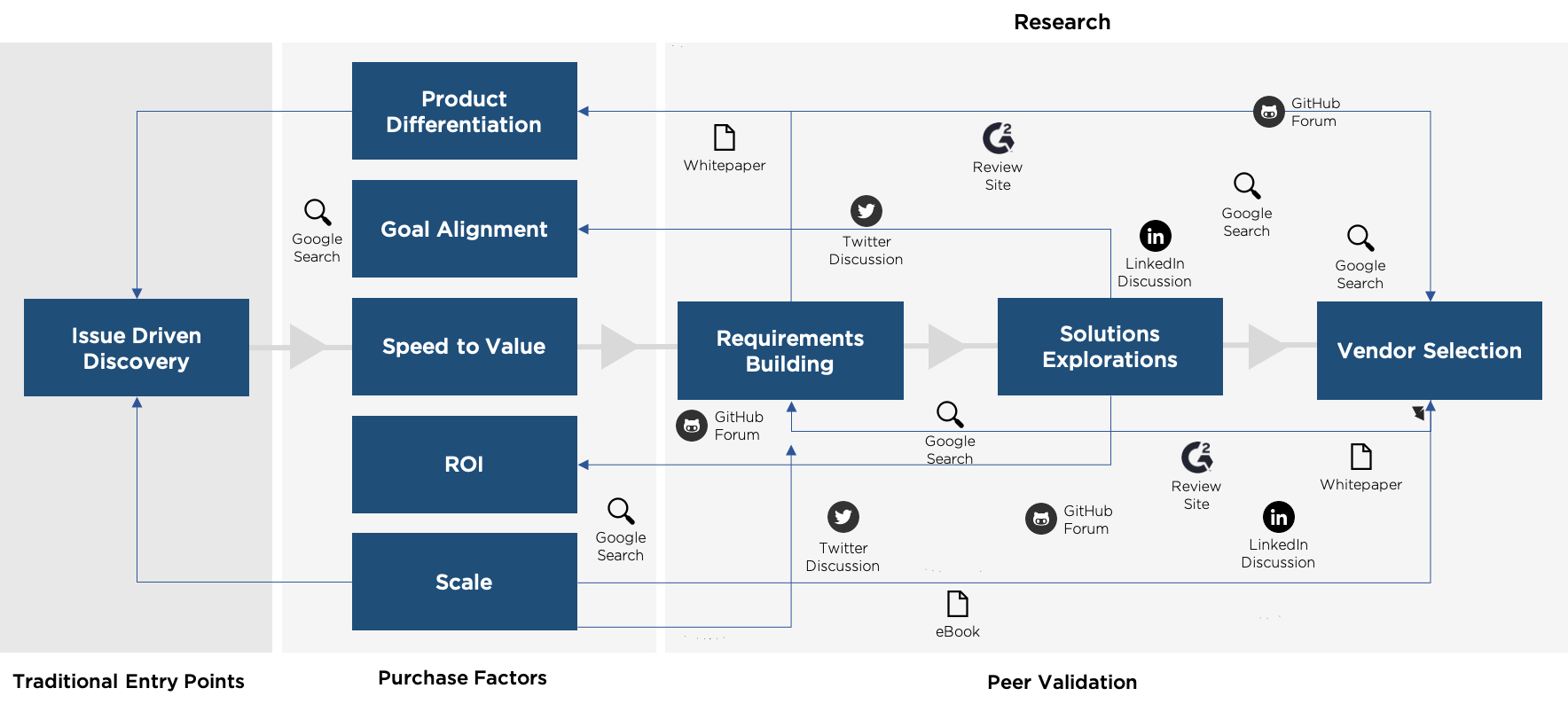 The Common Denominator of the Buyer's Journey: Research
After the problem is identified, the rest of the buyer's journey touches the consideration stage and involves requirements building, exploring different solutions, and selecting the right vendor. Those three steps can take the majority of time throughout the buying journey. But the common denominator here is that buyers are consistently using Google.
This is where long-term planning comes into play. Because it takes so much time for Google to index long-form content, you'd have to think about this 6 to 12 months before your program or campaign. Investing in long-form content like blogs and YouTube videos will ensure that your content will appear in the search engines over time.
It should be noted here that social media content is excellent for engaging with influencers and buyers in real-time. However, it is not meant to drive long-term visibility for the brand. This is because the shelf life of social media content is less than a day and, in many cases, just a few minutes. On the other hand, the shelf life of long-form content is forever, assuming it's written well and addresses all the keywords your buyers use when going through the B2B buyer's journey.
However, just because you write a blog post doesn't mean it will rank in Google for the right keywords. So you must ask yourself whether you did the proper research before writing the blog post. In many cases, B2B marketers create target audience personas that give a 360-degree view of the buyer.
An intelligent blog post is grounded in data. Likewise, all marketing must be grounded in audience data.
Did The Pandemic Transform the B2B Buying Journey?
Forrester released their latest B2B Buying trends report, revealing how the pandemic shaped B2B purchasing. According to the report, B2B buyers now exercise more due diligence than ever before, reinforcing what we have known for years. Buyers spend more time researching and engaging in more technical conversations with vendors and 3rd parties before deciding.
Here are a few data points from Forrester's B2B Buyers Journey Report:
The number of buyer journey actions has increased nearly 60%, from 17 in 2019 to 27 in 2021. A buying action is considered online research, conversations with vendors, and other steps to learn about technology on the market.
Digital buying actions outpace human interaction. The proliferation of digital content assets and resources, including product review sites like G2 and Captera and online communities, has contributed to this shift in digital buying actions.
55% of B2B buyers find human interaction valuable during the buying cycle. This is up 20% from 2019. Similarly, 53% of buyers find self-guided actions helpful, up 20% since 2019.
The B2B buying process continues to be complicated. Over the last several years, the B2B buying process has involved more than one decision-maker. This also validated Gartner's buying journey, when decision-makers are trying to gain consensus with the other decision-makers regarding which software to purchase. According to the report, 43% of B2B buyers say that the buying process is complex, up 19% since 2017.
The B2B buying process involves several internal stakeholders. Due to bottom-line concerns and increased scrutiny of technology purchasing decisions, the influx of the C-Suite, finance, and IT are now heavily involved in the decision-making process. According to the Forrester's B2B Buying Survey, 75% of executives have increased their role in making purchase decisions, followed by 51% of finance leaders and 63% of IT.
The Forrester report confirms what we have long suspected: the pandemic has irrevocably changed how B2B buyers operate. Buyers are now conducting more due diligence than ever before, researching options exhaustively and engaging in lengthy conversations with vendors before making a decision. This new reality presents both challenges and opportunities for software vendors.
On the one hand, the increase in buyer complexity makes it more difficult to win business. Vendors must now contend with more extensive and diverse stakeholders with priorities and concerns. Furthermore, buyers rely more heavily on digital resources, making it harder for human sales reps to stand out.
On the other hand, the increased scrutiny of purchase decisions presents an opportunity for vendors who can provide a differentiated offering. In a world where buyers do their homework, those with a strong product and a track record of success will be well-positioned to win business. Similarly, sellers who can effectively navigate the new B2B buying landscape will be well-positioned to succeed in this rapidly-evolving market.
The pandemic has changed the B2B buyer's journey and made it more complex. With more stakeholders involved and more research being done, vendors need to be prepared to engage in longer, more complex sales cycles.
Creating a B2B Buyer Persona is Smart Marketing 
Creating B2B Buyer Persona isn't hard to do. Anyone could download a template from Google and add any content they want. But savvy marketers build audiences and create B2B buyer personas driven by 100% accurate data.
Here's an example of an IT decision-maker B2B buyer persona.
Other than her name, her bio, and where she went to school, all of the data on this persona is real. I have written at length about creating buyer personas if you're interested. But one of the things that should be included when developing a B2B buyer persona is conversation analytics.
A conversation analysis will help uncover what keywords and phrases B2B buyers use publicly on social media. This data is critical. It can inform your entire editorial strategy when creating content. You can create a data-driven approach and reach the buyers with relevant content through blog posts, white papers, and ebooks. The point is to create content throughout the entire customer journey.
Final Thoughts on the Buyer Journey Stages
Here's what's interesting about buyer journey stages. The acceleration of digital transformation caused by the pandemic has decreased the buying process from 18 months to six months in many cases. This is also speeding up the innovation made by software companies. So as B2B buyers are building their requirements and exploring different solutions, other software vendors are innovating and providing new capabilities simultaneously. It's this never-ending cycle of cat and mouse.
Suppose you think about the behaviors the B2B buyer goes through when gathering information. In that case, this could be looked at as an opportunity to intercept them during this buying process. As you can see from the buyer journey mapping exercise above, buyers are reading white papers, reading review sites, participating in Twitter discussions and LinkedIn posts, and between; they are Googling anything and everything.
The inbound buyer's journey needs attention at the awareness stage, so all inbound marketing efforts should create awareness-based content. This includes helpful content and blog articles to help with a purchase decision. However, the content should not be a hard sales pitch.
Top of the funnel content can also be created with influencers since it's common knowledge the buyers trust 3rd party endorsements, especially at the awareness stage of the purchase funnel.
The buyer's journey should also be looked at through the lens of the consideration stage. The active research process for the buyer's journey lives predominantly in this stage as
If you've done a content analysis and optimized that content the right way from an SEO standpoint, you'll begin to rank well on Google for the terms that types of the buyer in B2B use when researching software. This is a critical step for your content marketing strategy, and understanding the buyer's journey will ensure that you create informative content for potential customers.
---
Mapping content to the buyer's journey takes time. It requires a long-term strategy with goals, objectives, and integration points. I hope you enjoyed this content. I do my best to create actionable content and provide value to your work.
Please consider subscribing to my YouTube channel, and be sure to hit the notification button so you can be notified when new videos are uploaded. You can also connect on Michael Brito's social channels if you like.