B2B buyers are unpredictable. Their buying journey is dynamic and never routine. Some say that this type of behavior is purposeful but I'm not so sure. I can see why some may feel this way given the fact that B2B buyers aren't huge fans of marketing.
What interesting is that the number of buyers in B2B markets is growing and changing. This is mainly due to the millennial generation getting promoted in their organizations and gaining more responsibility.
Full Transcript
I have probably managed or been involved in about a dozen technology RFPs over the last decade or so. Several of these RFPs were for clients and a few for the agency I work for. During the RFP stage B2B buyers spend a lot of time weaving in and out of what some may call the B2B sales funnel.
One of the first RFPs I was involved was back in 2006 when we were looking for an enterprise collaboration software and we decided to go with Clearspace which then became Jive Software.
In the early days, we also looked at social media monitoring tools like Scout Labs, Radian6, Sysomos, Collective Intellect and more recently Crimson Hexagon (now Brandwatch), Synthesio, Infegy and Pulsar.
I've also been a B2B buyer for social publishing and social CRM platforms like Sprinklr, Spredfast, Involver and Vitrue; and I also helped my clients navigate the employee advocacy space and helped them decide on platforms like Dynamic Signal.
And one of the advantages that I have had is that I could just pick up the phone and make a phone call, maybe send out a tweet and talk to someone. I don't download white papers; I don't read blogs. I want to get my hands dirty. Sadly, this isn't the typical B2B buying journey but then again, I am not your typical B2B buyer.
But not everyone has that advantage.  In fact, most B2B buyers have a very difficult time buying software. Why? Because it's a 12 to18 month process before technology decisions are made.
In fact, a recent study by Gartner found that there are several types of buyers in B2B and that 77% of them rated their purchase experience as extremely complex.
And there are a few reasons why.
There's a lot data and information available on the internet.
There's not just one B2B buyer. Typically, there's a group of 5-10 stakeholders and trying to get consensus between all groups isn't easy.
The buying journey isn't linear, it's dynamic and unpredictable.
Gartner refers to the buyer journey as 6 buying jobs.
Problem identification. It's coming to the realization that there's a problem and we need to do something about it.
Solution exploration.Is there a vendor out there that can solve our problem? If so, who is it and let's go talk to them.
Requirements building. What exactly do we need this software to do?
Supplier selection.Does this software do exactly what we want it to do?
Do we have enough information to decide? We need another demo, talk to a few customers and read more tech specs.
Consensus creation. This is probably the most difficult. How do we get all the decision makers on the same page so we can make a decision.
Now these don't happen sequentially. In fact they are happening simultaneously. And Gartner calls this looping. It's going in and out of these different buying jobs throughout the process for B2B buyers.
Now these are the things that B2B buyers do before getting to the validation phase and here's where content come in to play.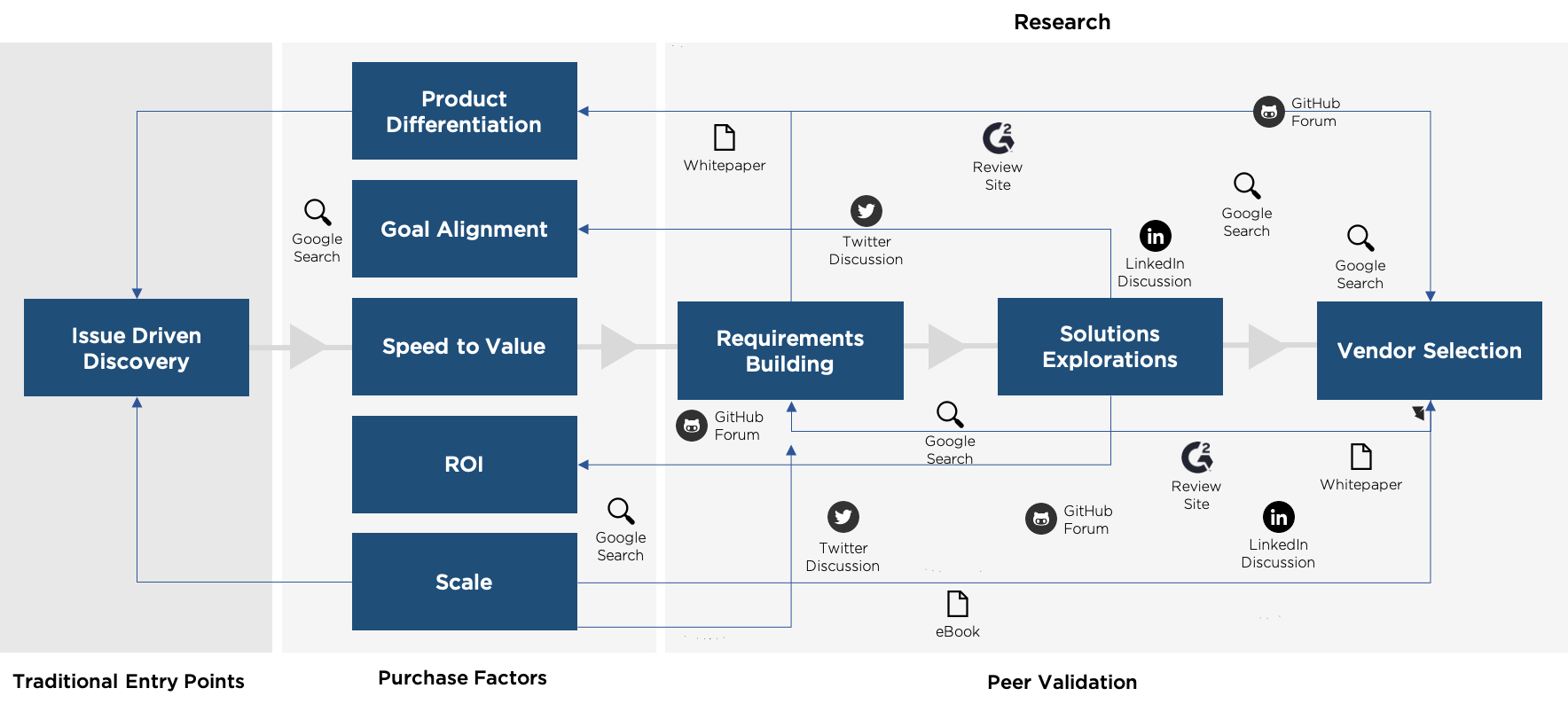 If you think about these things that B2B buyers do when gathering information, this series as an opportunity to intercept that search, that conversation, that engagement in social media and begin to influencer the buyers through this funnel.
So if you look under problem identification, you'll notice a few things. You'll see a web search, you'll see research, downloading a white paper. These are all buyer actions that you can use to create demand. You can create content as it relates to a problem in your industry and then answer the questions with why your software can solve that problem.
If you've optimized that content the right way from an SEO standpoint, you'll begin to rank well in Google for the terms that types of buyer in B2B use when researching software.
If you look at solution exploration, you'll see more Google searches, online and peer discussions and LinkedIn engagement. This is a great way to activate employees to participate in technology conversations and influence others through the B2B buyer journey.
In requirements building, you see more web searches and seeking validation from former colleagues and industry experts. This reason alone should be enough for you to activate an influencer marketing program so that you can influence the B2B buyers using 3rd party validation.
And then lastly you have customer testimonials, videos and social media conversations. These are all pretty straight forward.
Now if this were me, I would map out all the content that I have, find the gaps, and then build a content matrix so I can see what content I could use for each B2B buying job.
Now, going back to the last video about using data to inform a B2B content strategy, and understanding audience and the affinities they have. These are all inputs you can use about B2B buyers to inform your content strategy – the narrative, headlines, social content press releases, web content, paid search and paid social.
Everything you do to reach B2B buyers should be build using data; and then thinking about the data you want to use to drive lead generation and demand.
Enjoy the video and subscribe to my Youtube channel to be the notified when new videos are added.