What's fascinating about doing a traditional media analysis is that it's not difficult, yet most people who work in PR don't do it.
In this blog post, I will briefly define traditional media, discuss the history of how it came to be, and then share a traditional media analytics model that you can use immediately.
The History of Traditional Media 
Traditional media outlets have had a fascinating history from the birth of "newspapers" to the dawn of digital media. The beginning of journalism lies in newsletters and broadsheets distributed throughout Europe as early as the 15th century. Over time, newspapers became available to larger audiences, including political debates and classified ads.
It wasn't long before the first journalist took it upon himself to be more than just someone who writes articles, but also one who investigates and is accountable for what he writes. As a result of this mindset, a new journalistic standard was formed called "New Journalism" or "The New Journalism." One of the central tenets of this philosophy was the belief that a journalist should not just report facts but also provide a first-person account of the events as they unfold.
With time, major newspapers gained prominence and survived many challenges, from government censorship to competition from radio and television. Some believe this diversity has been the reason for their survival.
Until the digital age, it looked as though traditional news outlets would be around forever. Although they still command some of the largest audiences and publishing rights, the internet has started to chip away at its stronghold on the information. Within a few years, internet users have found that staying updated is not just as easy as picking up a newspaper but also more convenient.
With a few keystrokes, one can read about the latest news stories from all over the world and share those that they find interesting on social media for people to consume. Although this online revolution has not replaced traditional news outlets, it is only a matter of time before the digital age entirely takes over how we receive daily news.
What is Traditional Media? 
It's essential to pay attention to traditional media. It's an integral piece of an earned media strategy and requires a PR professional to pitch stories to journalists to get coverage about a product, service, or any announcement. In addition, traditional media publications often have a high readership, several million unique visitors, and high SEO value, so getting coverage needs to be a priority in your earned media metrics.
There are many types of traditional media outlets. For example, consumer and lifestyle publications like People, Vogue, and Cosmopolitan write about various topics like culture, fashion, and celebrities. Some outlets focus on financial news like Forbes, Fortune, and Money. Technology publications like The Verge, VentureBeat, and Gizmodo write about artificial intelligence, cloud computing, and virtual reality. And lastly, news publications like the New York Times, CNN, and Wall Street Journal regularly cover business-related stories.
Other examples of traditional media need to be addressed, primarily if you work within a specific vertical or industry.
For example, there are vertical publications like HR Magazine, Management Today, HR Zone, and People Management in the HR industry. These media outlets don't have the same readership or online footprint as other traditional media outlets. However, if you secure a placement in one of them, you'll know that your media coverage is reaching the right audience.
The Basics of Traditional Media Analysis 
PR professionals use several metrics to assess their company's performance in earned media.
Did you get coverage or not? This measurement is the easiest and most basic way to measure the effectiveness of public relations. While it's valuable to know which media publications you're getting coverage in, it's also important to remember that the size of the media outlet doesn't necessarily correlate with its impact.
Coverage by large outlets like the NY Times. This is the holy grail of media measurement because this coverage can mean widespread awareness and positive associations with your brand. You get bragging rights anytime you can get coverage in the NY Times. You should print a hard copy, frame it, and hang it in the company lobby.
Personal connections with journalists. This is not a tactic when measuring media, but there is a correlation between media coverage and your relationships with journalists. Never underestimate the importance of personal connections to secure media coverage. This is true in every industry, but especially in PR, where pitches are generally met with rejection. If you've cultivated a good relationship and rapport with a journalist, you'll be much more likely to get your pitch picked up than if you were pitching someone you have no connection with.
The number of media opportunities available. This media measurement approach is a little less straightforward because it entails looking at the total number of story opportunities available in your industry and then requires you to track performance against your competitors. If you can show an increase over time, this shows growth for your business. Or maybe you just hired a rockstar-earned media strategist.
Increase in web traffic. Traffic isn't the best indicator of media analysis for many reasons. First, tracking is difficult because most journalists do not link their articles to your website. The software can help augment web traffic from earned media sources, but it could get expensive. Secondly, you likely have other marketing campaigns and programs, so it's difficult to isolate whether web traffic comes from an ended media story or a marketing campaign.
Positive sentiment. I have never been a fan of tracking sentiment from an earned media story. 95% of earned media coverage is neutral. It is stating facts. Unless, of course, you work in the political landscape, measuring positive sentiment is one that requires a little more hand-holding and rigor to get accurate data. Typically, it's best to hand-code a small sample of articles and use that as your baseline for tracking sentiment. In this case, I would want to follow increases or decreases in negative sentiment instead of a positive view because the volume should be a lot lower … hopefully.
Still today, some PR pros use earned media value to quantify their work. I don't recommend this approach for several reasons which I won't get into today.
Traditional Media Analysis: The Earned Media Maturity Model 
Over the last few years, I've worked on this model to articulate PR teams' journey with traditional media analytics. This model isn't necessarily sequential. There are many variables to consider, like the size of the company, the vertical, whether it's multinational, and the sophistication of the marketing, PR, and analytics team.
The model is broken down into four phases: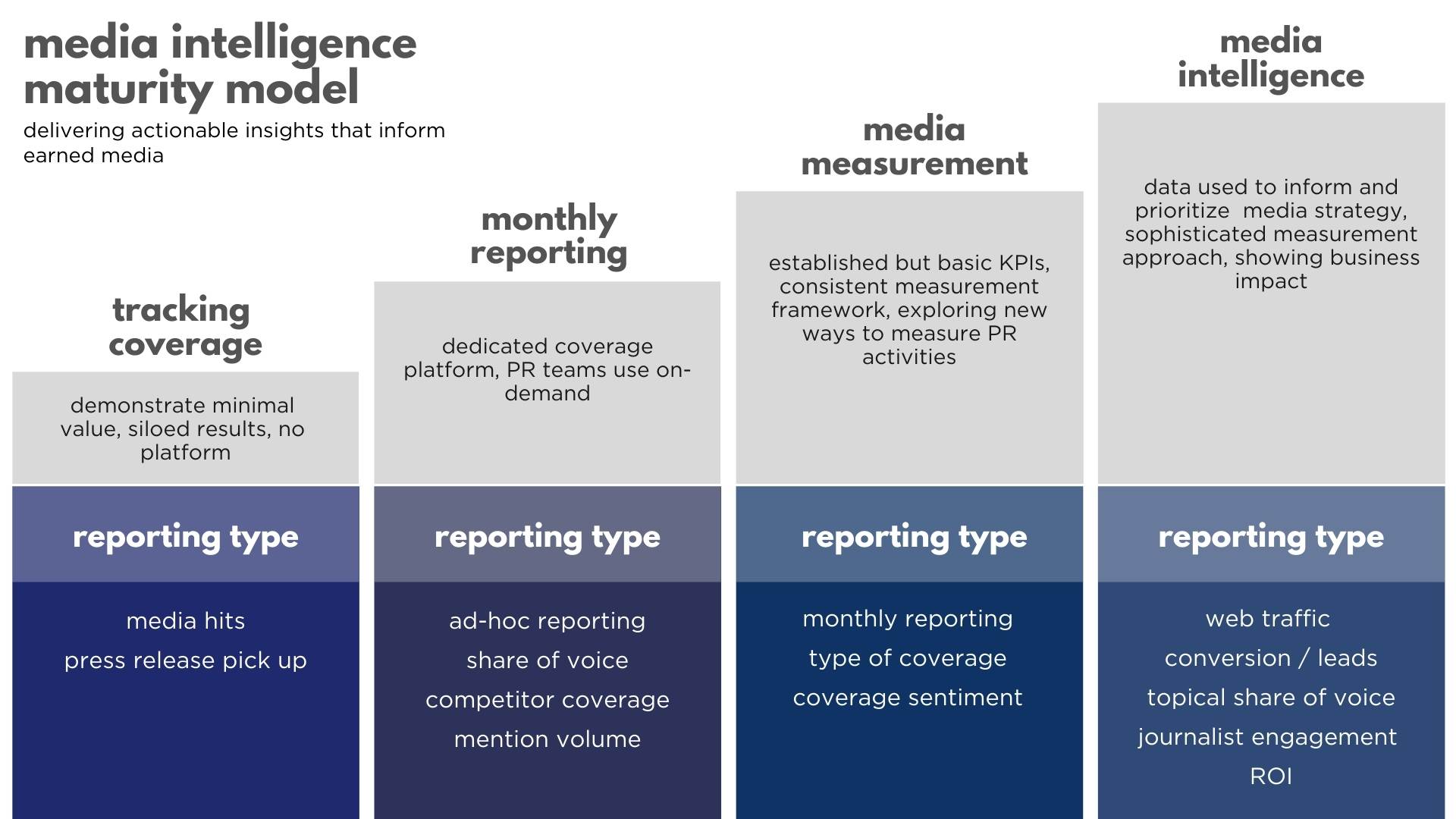 Phase 1: Tracking News Media Hits
Tracking media hits is counting numbers. All you need is a calculator, a pen and a pencil. It's adding all the "hits" that your company may get within traditional media outlets and adding them to a PowerPoint slide. Oh, and please don't say "hits" anymore.
In this phase, companies receive little to no value from their work in traditional media relations. This may happen for a few reasons. They don't have the expertise, don't know what they are doing, or don't care.
The teams are most likely doing a Google search, clicking on "News," manually adding articles to an Excel spreadsheet, and sending them off to the client. This is the absolute bare minimum in traditional media analysis. If you're currently in this phase, you should be looking at up-leveling your media measurement efforts or hiring a new PR firm.
Phase 2: Monthly PR Reporting
Most companies in this media measurement phase use a tool or media measurement platforms like Meltwater, Cision, or Muck Rack to pull earned media coverage. However, they most likely only access the platforms at the beginning of each month to pull last month's coverage data. So often get asked about my take on Meltwater vs. Brandwatch; for the most part, they are equal in terms of capability. I do have my favorites, though.
Companies in this phase will likely use the "off-the-shelf" reporting these platforms to provide to their clients. Example reports might be a fundamental SOV analysis, competitor coverage, or tracking mention volume monthly.
Phase 3: Media Analysis
This is the phase where the fun starts and innovation happen.
More advanced brands are analyzing media and exploring new ways of measuring media effectiveness, impact and exposure. They are going beyond the approach of just "measuring media impressions" to quantify their work with storytelling and traditional media relations.
They are also using media monitoring platforms to pull coverage. Still, they are exploring new ways to correlate earned media coverage with data from web analytics, social media, and other digital marketing initiatives.
They are most likely logged into the platforms daily, talking with their account managers, and sifting through reports to find media insights. In some cases, they may be using earned media value to calculate the impact of their PR programs. I don't recommend this.
Phase 4: Media Intelligence
As brands become more sophisticated in using data to inform media relations, they will do more comprehensive media analyses of industries and topics to uncover hidden narratives. This is a form of media intelligence.
Some brands will analyze specific business media outlets like Forbes, Fortune, or Bloomberg individually to understand the impact each one has when they write about particular topics relevant to the brand.
Most of the companies in this phase have PR teams driven by data. They are consistently trying to innovate, find new vendors, and leverage internal and external data sources to quantify the value of media measurement.
Media Analysis Example
This is an example of a media analysis. In this instance, we correlate three different data points and plot them on one graph. We track earned media coverage about a specific topic, but the same methodology could be used when monitoring brand coverage.
The data points along the X-axis represent the total volume of articles published about the specific topic or brand. The data points along the Y-axis represent engagement. In this case, an engagement means an action taken on social media (e.g., like, comment, share, retweet, quote, tweet, favorite, or pin).
The best way to explain this data point is that engagement numbers will increase if a specific media publication writes an article it resonates with its readership. But, conversely, if it doesn't resonate with their audience, the engagement numbers will be lower.
The last data point plotted on this graph is the bubbles' sizes. These represent the total reach of each publication, measured by their unique visitors monthly (UVMs). I am not a big fan of looking at UVMs in isolation, but correlating that data with volume and engagement paints a fascinating story of where you might want to prioritize your earned media strategy.
---
FAQ (Frequently Asked Questions)
What is the difference between traditional media and earned media?
Nothing. Traditional media is a noun and describes a set of news publications. Earned media is a verb. It's an action that PR professionals take to "earn" media. People who work in earned media are typically pitch journalists who write for traditional media outlets.
Are media analysis and media intelligence the same thing?
It depends on who you ask. Media analysis is more about analyzing what's in front of you. In this case, a set of data points or an excel sheet with all your previous media coverage. Media intelligence is an action that happens before you even start pitching. It involves upfront research to identify the right media publications that can impact business. Then, it helps set the earned media strategy.
Do you need to be a data scientist to excel in media measurement?
Not. I failed high school algebra twice and still use percent change calculators online. The great thing about media monitoring platforms today is that they do the math for you. There will be a slight learning curve because you must learn how to create queries, pull reports, and slice and dice data.
Are media measurement tools expensive?
Media measurement tools can get expensive. They are considered enterprise software and can soar to hundreds of t. However, other, smaller players in the space can help pull media coverage and do the basics of PR reporting.
What are some media measurement tools available on the market?
There are several. I would recommend Cision, Meltwater, Muck Rack, Signal AI, Zignal Labs, or Critical Mention for enterprise customers. For smaller companies with lower budgets, I suggest Agility PR Solutions, Metro Monitor, Mentionlytics, Buzzsumo, and Brand24.
---
I hope you enjoyed this content. I do my best to create content that's actionable and provides value to the work you do.
Please consider subscribing to my YouTube channel, and be sure to hit the notification button so you can be notified when new videos are uploaded. You can also connect with me on my other social media channels if you like.