See 2021 Digital Marketing Budgets below.
Nothing brings me joy more than reading about marketing budgets increasing for the following year. I just finished reading Gartner's State of Marketing Budget & Strategy 2022 and wanted to share some quick thoughts and insights.
I love reading Gartner's reports because they identify key marketing challenges based on client interviews and primary research. It provides excellent context and a frame of reference before reading into the data.
Here's a summary of what they see as marketing challenges:
So far, in 2022, marketing budgets have increased to 9.5% of company revenue. This is up from 6.4% in 2021. These budget numbers appear good, but they are still behind pre-pandemic levels.
The buyer journey is evolving, and CMOs want to balance brand awareness and marketing performance.
58% of CMOs report they don't have the talent to deliver their marketing strategies, yet hiring is flat.
Digital Marketing Budgets Increasing
Since 2018, marketing budgets as a mean percentage of company revenue was 11%. In 2020, that percentage dropped 6.4% during the pandemic and was back up to 9.5%.
According to Gartner, the average marketing spending has increased across all industries, with a few exceptions:
Financial Services brands recorded the highest marketing budgets, at 10.4% of company revenue, up from 7.4% in 2021.
Travel and Hospitality reported a significant marketing budget increase, from 5.4% in 2021 to 8.4% in 2022. This is excellent news considering that the pandemic impacted this industry the most.
CMOs that work in the technology sector reported the most significant increase in budget year over year, jumping from 5.0% in 2021 to 10.1% in 2022.
What's interesting about this data is when you overlay it with other research. While scanning the Deloitte CMO Survey, one data point caught my eye. When CMOs were asked if they were more or less optimistic about the US economy, 39% reported being less optimistic. Even though optimism is down among CMOs, marketing budgets are still increasing. This is good news.
CMOs Shifting from Digital-First as the Buyer Journey Shifts
When the Chief Marketing Officer was asked about their marketing budgets focused on online versus offline channels, 56% said digital was the priority. However, offline marketing channels account for 46% of the budget, which seems to be a more equal split than in recent years.
Evidence for this shift can be seen in YouTube's reported revenue, which missed market expectations in Q1 of 2022. This recalibration reflects the essential truth of what Gartner calls "hybrid multichannel marketing," which is a different way of saying omnichannel marketing.
Paid Social & Search Marketing (PPC) Are Digital Marketing Budget Priorities
According to Gartner, marketing budgets across PESO channels skew towards paid digital media and account for over 60% of the total budget.
Looking at the average spend across various verticals, paid social leads, followed by paid search and display advertising.
Paid social appears to be a smart preference for marketers in 2022, as platforms like TikTok grow and legacy brands like Facebook, now Meta (Did I say that Facebook is a legacy brand?), see their user numbers increase. In addition, paid social allows brands to target various audiences with highly customized creative and marketing messages.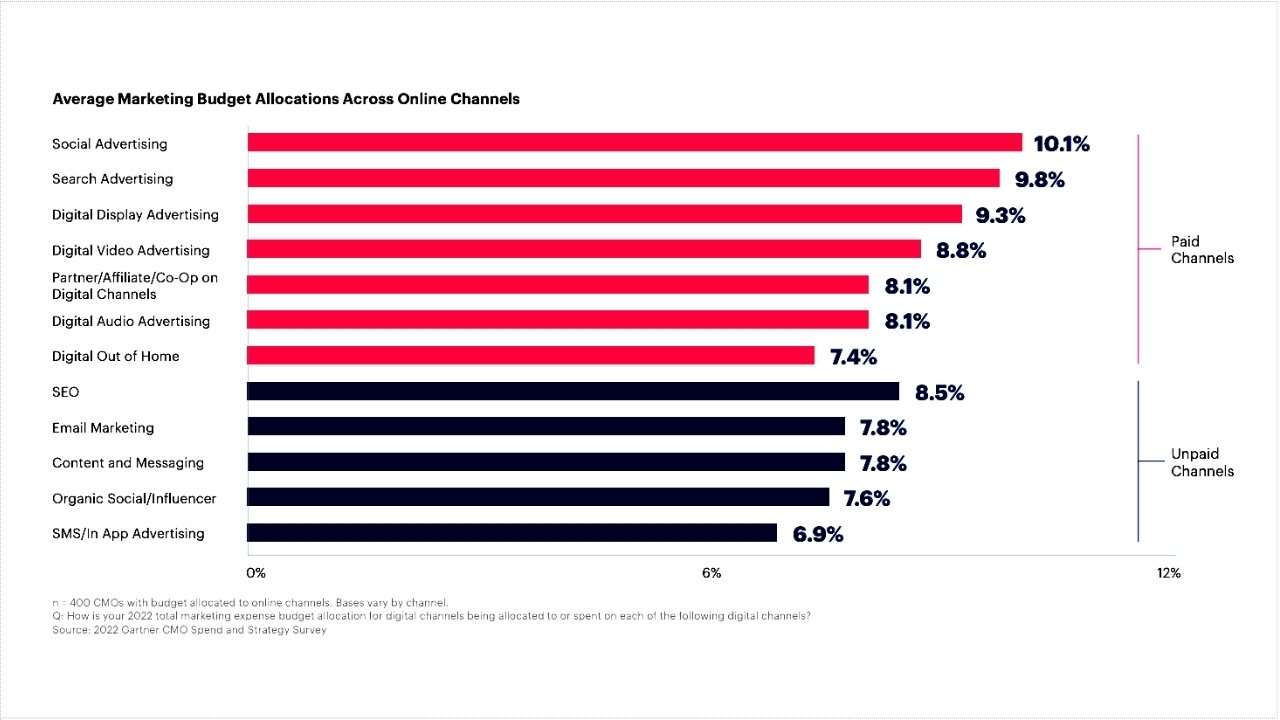 When looking at specific industries, there are a few interesting insights:
CPG and retail brands allocate the highest digital budget to paid social.
Finserv brands spend more on email marketing than other digital marketing channels.
Healthcare companies allocate the largest marketing budget to paid search advertising.
Analytics Budgets Appear to be Small But Not Really
In 2021, digital commerce was number one on the list, reflecting that consumer and B2B brands had prioritized investments in digital channels to serve their customers through the pandemic challenges. In 2022, digital commerce will be less of a priority for CMOs.
Digital commerce has been replaced by campaign creation and management, brand strategy and activation, and marketing ops.
Budget allocations towards analytics appear to be very low on the priority list; however, Gartner segmented analytics into three core marketing functions and, when combined, account for almost 30% of budget allocation:
Marketing data and analytics 9%
Customer Analytics 8.8%
Marketing Insight 8.3%
Marketing Budgets Insights from Deloitte's CMO Survey
According to Deloitte, digital marketing will continue to be prioritized in 2022. In addition, investments in data-driven marketing have increased since February 2021.
Over 60% of marketers surveyed are testing and iterating their digital marketing plan and strategies and believe in having a solid understanding of the various technologies available in the marketplace. However, fewer than 40% believe they have the right system to track customer data across the B2B buyer journey.
While investments in digital marketing have increased across the board, data-related activities experienced the largest growth, rising almost 40% from 56.5% in February 2021 to 77.5% in February 2022. With data collection and purchasing becoming more complex, companies are increasing their budget investments in capabilities to analyze, store, manage, and automate their data. As a result, Martech stacks are becoming more complex, and companies are investing in the necessary technologies to scale and integrate disparate systems.
See below for the areas of digital budget allocation:
Data analytics 77.5%
Optimizing the company website 74%
Digital media and search 70.9%
Marketing technology 69.8%
Direct marketing (email) 68.2%
A/B testing 47.3%
Managing privacy issues 35.3%
Machine learning and automation 26.4%
Improving app by 24.4%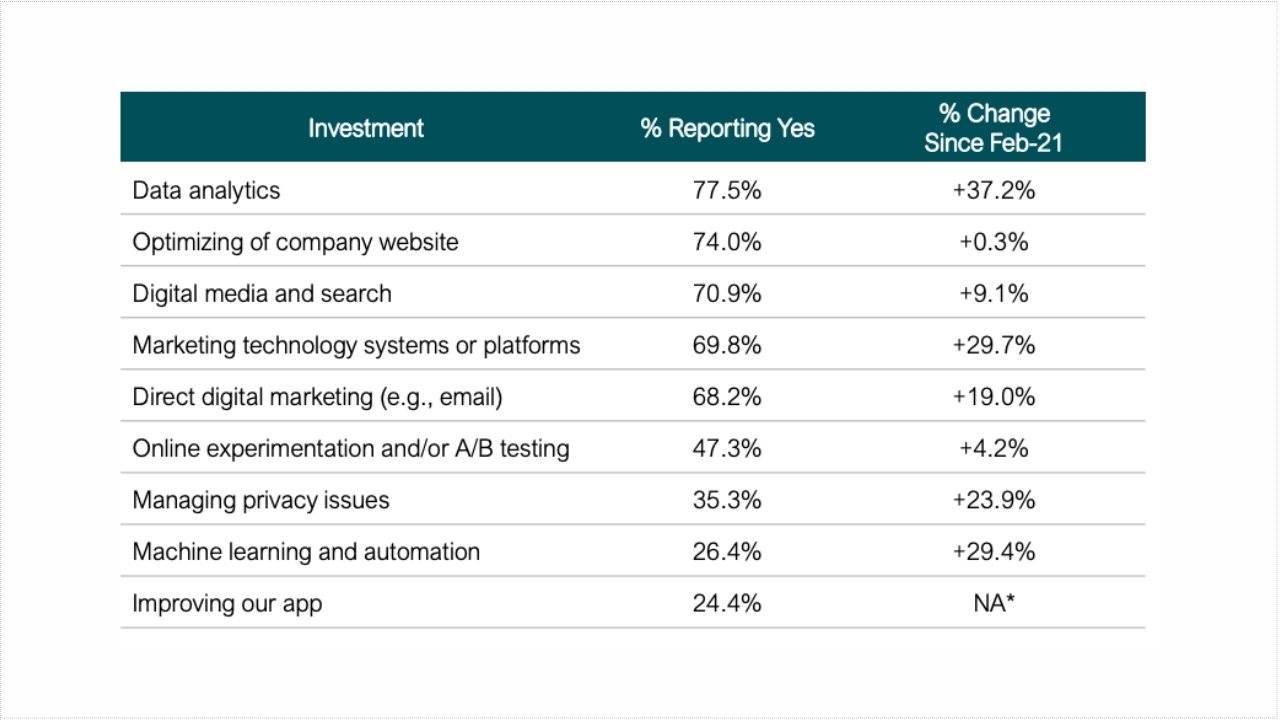 According to Deloitte, marketers are creating more robust data strategies and investing in innovation due to changes to third-party data. For example, when explicitly asked about third-party cookies disappearing, 58.3% said they are building data systems to capture better customer information, followed by 50.5% saying they are investing in technology innovation to engage with their customers directly.
The Gartner and Deloitte marketing reports show signs of what's to come in 2023 as investments in digital marketing, data, and actionable insights increase across all industries. Increasing marketing budgets opens the door for innovations and customer engagement.

---
2021 Digital Marketing Budgets: Gartner CMO Survey
Gartner's 2021 CMO Spend Survey will help you understand the current state of digital marketing budgets and how they are expected to change over the next several years. This research is designed for marketers who want a comprehensive understanding of their market and an in-depth analysis of how other companies invested in their B2B marketing strategies in 2022.
You can use this data to make informed decisions about where to invest resources, what programs should be prioritized, and which channels should be scaled back or cut altogether. This report will give you actionable data insights to help you achieve your marketing goals while staying within budget constraints. It also provides recommendations on what types of investments have been successful for other organizations like yours so that you can replicate them yourself!
Digital marketing budgets declining
Marketing budgets as a percentage of revenue have fallen from 11% in 2020 to 6.4% in 2021
Digital channels account for 72.2% of the total marketing budget
29% of work that external agencies previously carried out has been moved to in-house teams over the last 12 months
Below are five trends provided by Gartner as a part of their 2021 CMO survey about the digital marketing budget breakdown:
Digital marketing budgets struggle to rebound post-pandemic
2020 certainly brought a year of uncertainty, marketing budgets included. Early in the pandemic, it was clear that retail brands would struggle longer term compared to B2B and technology companies. But everything is cyclical, meaning it may start at retail and slowly affect the entire supply chain over time.
With the Delta Variant growing and an economy still a little on edge, marketers and CMOs are undecided on how much more they will invest in marketing dollars moving into 2022.
Digital marketing budget breakdown squeezed across all industries
Overall digital marketing budgets declined by about four and a half points from 2020 to 2021. Media, manufacturing, and tech products took the most significant hit, with some marketing budgets dropping over 50% from last year.
While consumer products, financial services, and healthcare did see a decline in the percentage of revenue allocated towards marketing budgets, they were minimal.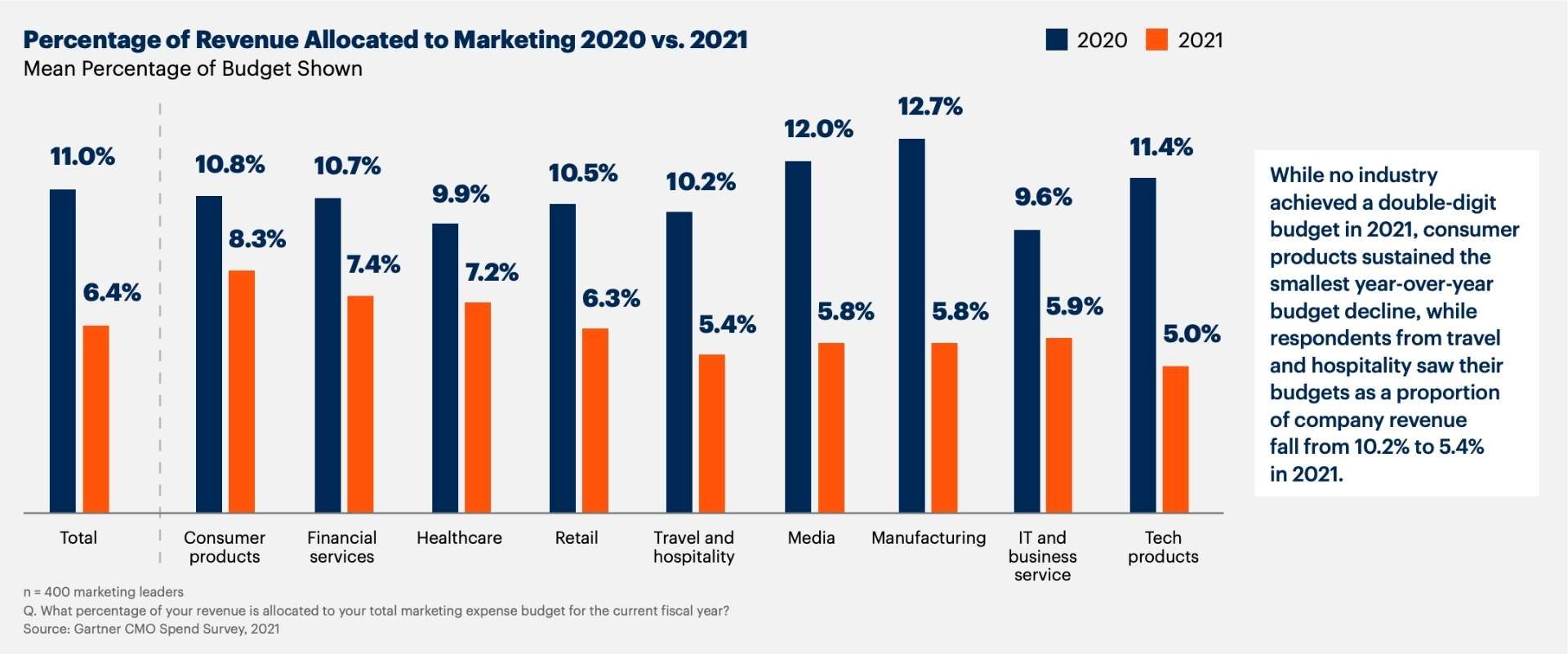 Digital channels dominate marketing budgets
According to the Gartner data, 72% of marketing budgets 2021 will focus purely on digital investments and what they call owned digital, paid digital, and earned digital. Not a fan of their terminology, but who am I to complain?
Roughly 30% of that budget will be focused on the company website, email marketing, and mobile activation. In addition, 20% will focus on digital ads, search engines, and real-time marketing.
And a little over 20% of the budget will be allocated to social media (11.3%) and SEO (10.5%).

In-house staffing shifts from tactical to strategic capabilities
The data here suggest that marketers are shifting in-house responsibilities internally, causing a decline in agency investments. When the survey respondents were asked to rank the external PR agency capabilities they're moving in-house, CMOs' top 3 answers were the following:
Brand strategy
Innovation and technology
Marketing strategy development
This data surprises me, given how difficult it is internally to approve job requisitions compared to increasing an agency budget.
The increase in marketing technology from 26.2% to 26.6% is a good sign that marketers are now using various technologies to help with automation, analytics, publishing, etc. Knowing what kind of Martech CMOs are investing in would be nice. Is it technology and social media analysis tools, automation, performance marketing, or all of the above?

Marketing analytics spending is not a priority
The top three budget investments for 2021 are digital commerce, marketing operations, and brand strategy. These are all critical components of any digital marketing strategy. It makes sense. Companies must sell products, find efficiencies and cost-cutting measures, and deliver brand value to their stakeholders.
Marketing analytics, sponsorships, and consumer insights will represent about 30% of the budget in 2021. But, again, it might be a matter of semantics. Still, I like to categorize customer insights as an output of marketing research and analytics, so the budgets look friendly and healthy when looking at it that way.
Related Content