Are you looking to increase your digital marketing budget? Gartner's 2021 CMO Spend Survey will help you understand the current state of digital marketing budgets and how they are expected to change over the next several years. This research is designed for marketers who want a comprehensive understanding of their own market, as well as an in-depth analysis on how other companies are investing in their B2B marketing strategies moving into 2022.
You can use this data to make informed decisions about where to invest resources, what programs should be prioritized and which channels should be scaled back or cut altogether. This report will give you actionable data insights that will help you achieve your marketing goals while staying within budget constraints. It also provides recommendations on what types of investments have been successful for other organizations like yours so that you can replicate them yourself!
Key Findings
Marketing budgets as a percentage of revenue have fallen from 11% in 2020 to 6.4% in 2021
Digital channels account for 72.2% of the total marketing budget
29% of work that was previously carried out by external agencies has been moved to in-house teams over the last 12 months
Below are 5 trends provided by Gartner as a part of their 2021 CMO survey about the digital marketing budget breakdown:
Digital marketing budgets struggle to rebound post pandemic
2020 certainly brought a year of uncertainty, marketing budgets included. Early in the pandemic it was clear that retail brands were going to struggle longer term as compared to B2B and technology companies. But everything is cyclical, meaning it may start at retail and then slowly affect the entire supply chain over time.
With the Delta Variant growing, an economy still a little on edge, marketers and CMO's are still undecided on how much more they are willing to invest in marketing dollars moving into 2022.
Digital marketing budget breakdown squeezed across all industries
Overall digital marketing budgets declined about four and a half points from 2020 to 2021. Media, manufacturing, and tech products took the largest hit with some marketing budgets declining over 50% from last year.
While consumer products, financial services and healthcare did see a decline in the percentage of revenue allocated towards marketing budgets, they were minimal.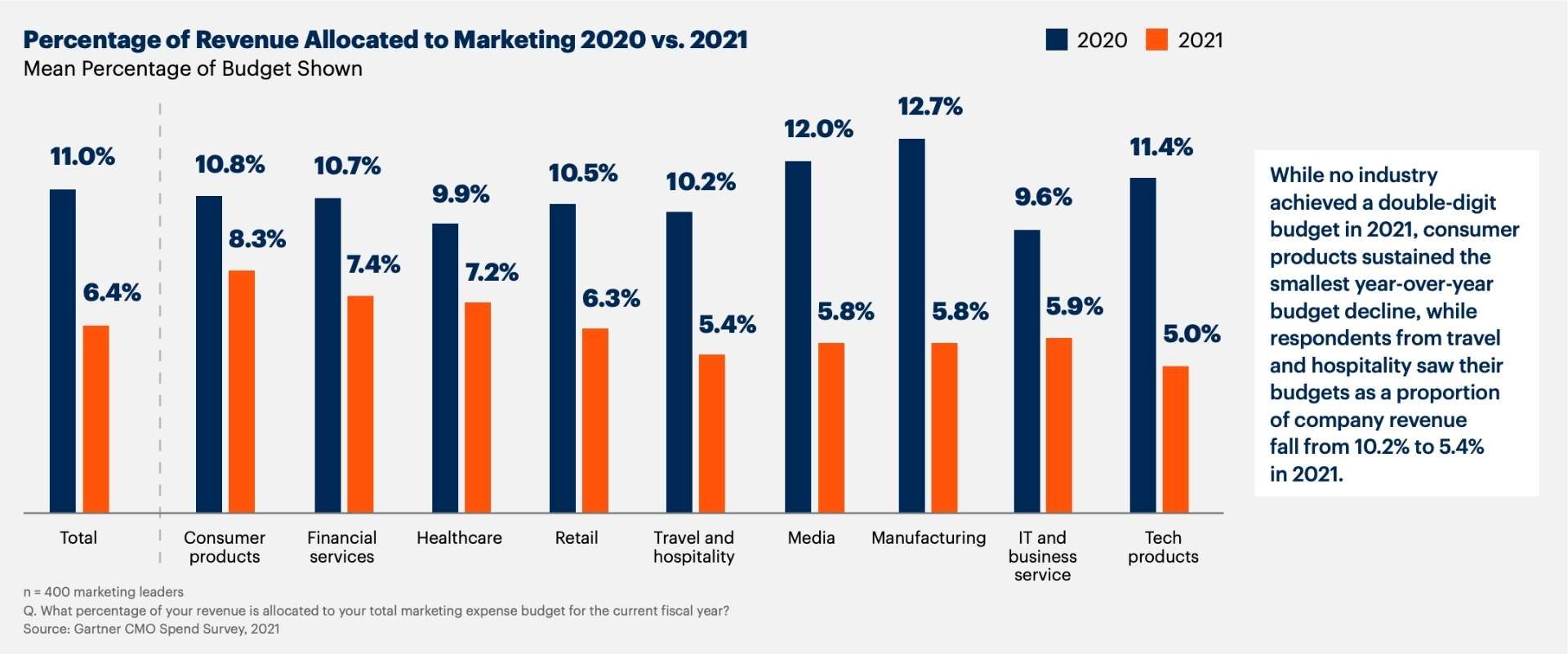 Digital channels dominate marketing budgets
According to the Gartner data, 72% of marketing budgets in 2021 will focus purely on digital investments, and what they call owned digital, paid digital and earned digital. Not a fan of their terminology but who am I to complain?
Roughly 30% of that budget will be focused on the company website, email marketing, and mobile activation. 20% will be focused on digital ads and search engine, and real time marketing.
And a little over 20% of the budget will be allocated to social media (11.3%) and SEO (10.5%).

In-house staffing shifts from tactical to strategic capabilities
The data here suggests that marketers are shifting in house responsibilities internally, causing a decline in agency investments. When the survey respondents were asked to rank the external agency capabilities they're moving in-house, CMOs' top 3 answers were the following:
Brand strategy
Innovation and technology
Marketing strategy development
This data kind of surprises me given how difficult it is internally to get job reqs approved compared to increasing  an agency budget.
The increase in marketing technology from 26.2% to 26.6% is a good sign that marketers are now using various technology to help with automation, analytics, publishing, etc. It'd be nice to know what kind of Martech was being invested in. Is it social media technology, social analysis, automation, performance marketing?

Marketing analytics spend is not a priority
The top three budget investments for 2021 are digital commerce, marketing operations, and brand strategy. These are all critical components to any digital marketing strategy. It makes sense. Companies must sell products, find efficiencies and cost cutting measures, and deliver brand value to their stakeholders.
Marketing analytics, sponsorships and consumer insights will represent about 30% of the budget in 2021. It might be a matter of semantics, but I like to categorize customer insights as an output of marketing research and analytics, so when looking at it that way the budgets look nice and healthy.
I really hope you enjoyed this video. I do my best to create content that's actionable and provides value to the work you do.
Please consider subscribing to my YouTube channel; and be sure to hit the notification button so you can be notified when new videos are uploaded. You can also connect on Michael Brito's social media channels if you like.