Below are the latest LinkedIn updates, features, product announcements, and general news. Updated: 12.07.2022.
LinkedIn Launches New Creator Analytics: This just in. LinkedIn has added additional insights to help creators track their performance on the platform, including follower growth data, new demographic insights, and top-performing posts. 12.7.2022
LinkedIn Adds New Capabilities for Brand Pages: LinkedIn just launched more features for company pages, including new ways to highlight and optimize LinkedIn Newsletters. They are giving brands the tools to drive maximum content discovery across the LinkedIn Network and Google, with company pages able to add SEO titles, descriptions, and tags when they upload their LinkedIn Newsletter. They have also rolled out new features for product pages, making them more discoverable in LinkedIn searches. LinkedIn also added competitor analytics to track your top competitors' audience growth, post-performance, and post-engagement rates. 12.01.2022.
LinkedIn Adds More Stickers to Increase Engagement: a few months ago, LinkedIn launched link stickers which could be used to link images and videos and drive traffic back to a website. They are currently working on adding stickers that could link to internal profiles, company pages, and more. 10.24.2022
LinkedIn's New Security Features Help Prevent Fake Profiles: LinkedIn has released some features to fight fake profiles and misuse of the platform. They are releasing a new "About this profile" section that gives LinkedIn users more information about the profile– when the profile was created, and they have a verified phone number or work email address.
LinkedIn Introduces New Accessibility Features for Users: LinkedIn has introduced several new accessibility features. To increase accessibility for those with visual impairments, they have added auto-captions to videos and allow users to watch videos in high-contrast mode. Additionally, LinkedIn is increasing the prominence of accessible job postings in the app.
LinkedIn Continues to Add New Features for Brand Pages: In a recent LinkedIn blog post, they announced several new features for company pages. First, they just released post templates, making it easier for brands to create content without 3rd party apps. They have also released link stickers, which enable brands to add clickable links to photos and videos. Lastly, they now allow brands to create a new section called "Our Featured Commitments," where businesses can outline their brand values.
LinkedIn Announces Multiple Upgrades to Their Ad Platform: LinkedIn continues to innovate in several areas of its business. They just announced launching new tools to help B2B marketers maximize their campaigns, including Document Ads (long-form content), offline conversion data integration, and the LinkedIn Media Library for storing and finding new advertising content.
LinkedIn Testing 'Focused Inbox': LinkedIn has announced that they are testing a new Focused Inbox, which will work similarly to email clients like Gmail and Outlook. The most relevant messages (and InMails) will appear on the Focused inbox, and the other messages will appear in the 'Other' tab. Users can move messages back and forth between each inbox, allowing LinkedIn to get smarter about where messages initially appear. With all the messages I get from people trying to sell me something, this is one product update I'm looking forward to.
LinkedIn Working to Improve Features for Creators and Brands: It's expected that LinkedIn will soon be rolling out native post scheduling within the app. This is an excellent move as it will give creators more tools to build their marketing strategies. Larger enterprise companies that use social media marketing software have enjoyed this feature for years.
Pinning Comments Now Available on LinkedIn: LinkedIn finally joins its peers by allowing users to pin comments to their posts. This feature can be useful for highlighting thoughtful responses and commentary, driving more sticky conversations in the app.
LinkedIn is Improving its Search Results: It's no secret that LinkedIn engagement continues to rise globally. They recently shared an overview of how they will refine the search results and improve the discovery of quality content. This is good news for all LinkedIn users.
LinkedIn Adds New Template Posts For Creators: As visual content and storytelling dominate social media feeds, LinkedIn will allow you to add a clickable link directly to your images and videos. This is an excellent opportunity to drive your audience to your website, blog, event, newsletter, etc. It'll be interesting to see how the LinkedIn algorithm will highlight organic posts that link to an external site versus ones that don't.
LinkedIn Testing New 'Discover' feed: I never get access to "new features" before anyone else. I just read about them and am waiting for access. LinkedIn is launching a new 'Discover' feed allowing for more contextual content, job updates, and more. The discovery of new content, creators, and influencers drives more in-app engagement.
LinkedIn Adds' Diversity Nudges" on Recruiter Product: A DE&I initiative that will help hiring managers and staffing teams if gender representation in a candidate search is unbalanced. A notification will let you know the search's Male/Female ratio. You'll also receive recommendations of Skills, Locations, and Companies filters you can add to your search to improve the gender balance.
LinkedIn Releases New' Event Framework' for Businesses: Virtual and in-person events will always be a core staple in B2B marketing. The LinkedIn Event Resource Toolkit is an excellent resource with best practices across the event lifecycle, mapping event types with marketing objectives, considerations for live or prerecorded events, and more.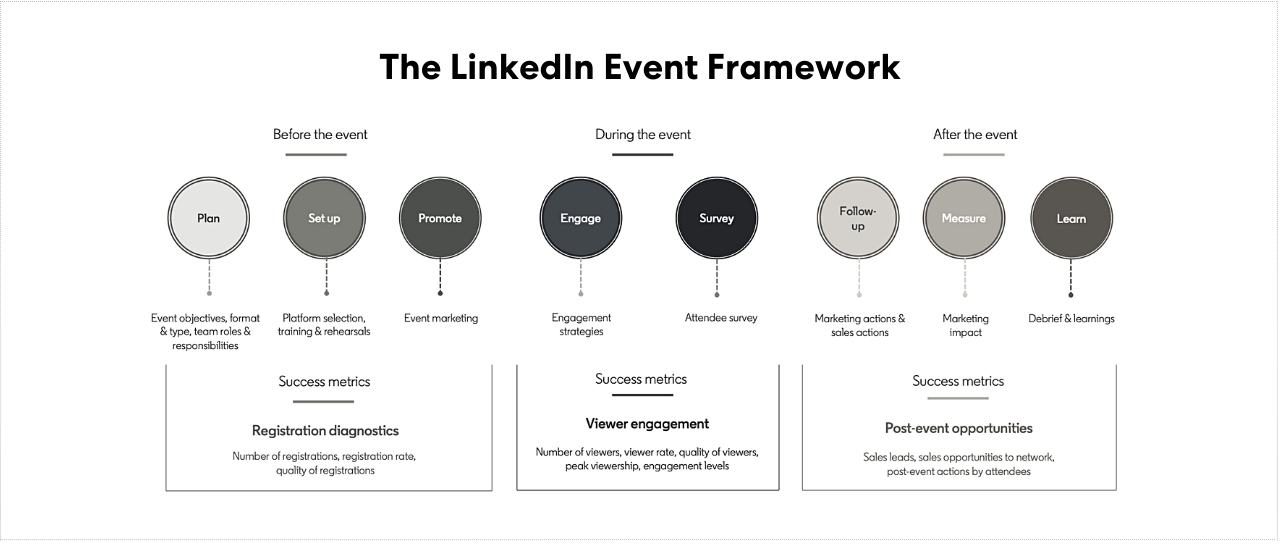 LinkedIn Collective: A B2B Community: LinkedIn recently launched a new community creative work that B2B marketers are doing in the industry. I wrote a longer perspective on why LinkedIn Collective is long overdue and a great step forward for the industry.
LinkedIn Testing Native Carousel Posting for Creators: LinkedIn continues to expand its toolset for creators and power users. They recently announced a new carousel posting option for users. I'm interested to see what the engagement will be on these posts. Many marketers upload PDF documents with multiple pages, serving similar functionality to a carousel. From my experience, these posts' engagement levels are five times higher than posting a standard image.
---
See below for all the latest product updates and features from the other social media channels: