New LinkedIn updates, features, product announcements, and general news. Updated: 08.24.2023

LinkedIn Analyzes AI's Impact Across Industries: LinkedIn's "AI at Work" report delves into the transformative effects of generative AI on various professions and the necessary skills to thrive in the evolving AI landscape. The report highlights a significant uptick in AI-related job postings and a surge in LinkedIn members adding AI skills to their profiles. Notably, there's been a 21x increase in job postings mentioning new AI technologies since November 2022. While 47% of US executives believe generative AI will boost productivity, most remain uncertain about AI's broader implications for their organizations. The report also identifies industries and roles most likely to benefit from AI, emphasizing that these tools are assistive rather than replacements for human roles.
LinkedIn Boosts AI Capabilities for Sales Navigator and Recruiter: LinkedIn is enhancing its platform with AI-driven tools to optimize user experience, particularly for Sales Navigator and Recruiter. Sales Navigator will now feature an account prioritization tool, which uses machine learning to spotlight vital users for sales pitches based on various indicators. This tool aims to keep users updated on significant changes, ensuring they never miss potential opportunities. Additionally, LinkedIn has introduced a "Personas" feature, allowing marketers to create templates of their ideal leads, which the platform then uses to identify suitable contacts. On the Recruiter side, a new "Likelihood of Interest" feature will spotlight members more inclined to engage based on their activity. These advancements aim to streamline user interactions, making the search for leads and candidates more efficient.
LinkedIn Updates Newsletter Creation UI & Allows Multiple Newsletters: LinkedIn is refining its newsletter creation process by introducing a revamped user interface (UI) and permitting users to manage multiple newsletters under a single profile. This enhancement aims to streamline the content creation experience, making it more intuitive and user-friendly. The platform also introduces a new "Newsletter" tab on user profiles, allowing for easier access and management of multiple newsletters. This update aligns with LinkedIn's ongoing efforts to bolster its content creation tools and enhance user engagement.
LinkedIn Introduces Brand Partnership Tags for Enhanced Transparency: LinkedIn is launching brand partnership tags, enabling users to officially label posts they've been compensated for. As demonstrated in an example shared by Matt Navarra, a new "Brand Partnership" toggle appears during post-creation. A "Brand Partnership" tag is displayed beneath the user's name when activated. The positioning of this tag has raised questions, as it resembles LinkedIn's "Promoted" label for paid ads. While the feature is being tested, it's unclear whether it will be rolled out to all users. The introduction of brand partnership tags aligns with LinkedIn's commitment to transparency and authenticity, ensuring users are aware of sponsored content.
LinkedIn Adjusts Metrics to Omit Inactive and Restricted Accounts: To enhance the reliability of engagement and reach insights, LinkedIn has decided to exclude restricted and hibernated accounts from the total follower and connection counts on user profiles. This change aligns with LinkedIn's commitment to ensuring a safe, authentic, and transparent user experience and will more accurately represent audience sizes.
Leveraging LinkedIn Optimal Posting Strategies for 2023 Unveiled: If you're seeking strategies to boost your reach on LinkedIn and enhance your content's performance, you're in the right place. As Twitter undergoes significant changes, LinkedIn emerges as a viable alternative for professional social media users, with its record-breaking in-stream engagement. In addition, the platform's robust growth, adding 80 million new members in the past year, underscores its potential to facilitate niche conversations and engagement.
Generative AI Post Prompts: LinkedIn's New Experiment: LinkedIn's experimentation with artificial intelligence extends beyond AI-generated profile summaries and job descriptions. The professional networking platform is now testing generative AI prompts for feed posts, though the idea of an AI tool formulating user opinions has raised some eyebrows.
Celebrating Two Decades of LinkedIn: Key Milestones Highlighted: As LinkedIn celebrates its 20th anniversary, it looks back at its journey since its launch in May 2003. With a consistent focus on professional communication, LinkedIn has carved out a niche, outliving many other social media platforms. The LinkedIn Marketing Solutions team has crafted an infographic that encapsulates significant achievements and releases, reflecting the platform's evolution over two decades.
LinkedIn Membership Soars to 930 Million Amidst Robust User Engagement: LinkedIn has steadily grown its user base, boosting user engagement despite shifts and reforms in other social media platforms. The professional network now boasts 930 million members, a notable increase from the 900 million reported in January.
LinkedIn Introduces Custom CTA Buttons for Premium Business Profiles: LinkedIn is rolling out a new feature for Premium Business subscribers, allowing them to add custom Call-to-Action (CTA) buttons to their profiles. These buttons will direct visitors to a URL, enhancing the profile owner's online presence. The feature is exclusive to Premium Business users and offers six preset CTA options, accessible through profile settings. 04.25.2023
LinkedIn Debuts Inspiring Video Series, 'Catalyst': As part of its focus on original content, LinkedIn has launched 'Catalyst,' featuring individuals who overcame significant career setbacks and still achieved success. The documentary-style series, created by LinkedIn Editorial Productions, showcases inspirational stories from various fields and marks a creative shift from previous LinkedIn News video content. 04.25.2023
LinkedIn Reveals Feed Algorithm Insights and Anti-Spam Efforts: In a technical overview, LinkedIn has shared details about its efforts to combat viral spam and insights into its feed algorithm. Understanding these factors can help users plan content strategies and improve post reach. While LinkedIn prioritizes community building and niche relevance, posts that generate substantial engagement will still see increased visibility. 04.20.2023
LinkedIn Publishes 'Brand to Buyer' Report on Tech Marketing Trends: LinkedIn has released its latest 'Brand to Buyer' technology marketing report, examining how tech brands research new purchases and the factors influencing their decision-making processes. The study includes input from over 2,000 tech decision-makers and 2,100 marketers, providing valuable data-driven insights for strategic planning in the evolving technology sector. 04.19.2023
LinkedIn Boosts Security: ID Confirmation Tools for Peace of Mind: As concerns about identity theft and increasingly sophisticated AI bots escalate, social platforms prioritize verification features to protect users. LinkedIn is joining the fray by incorporating additional identity features, such as ID verification and workplace confirmation, to provide a more secure experience. By partnering with identity platform CLEAR, LinkedIn is rolling out a new verification process that allows users to add a confirmation note to their profiles by submitting their government-issued ID, enhancing trust and safety on the platform. 04.14.2023
LinkedIn Unveils Exciting Updates: Enhancing Audience Network Campaigns: LinkedIn is introducing new updates to its Audience Network ads, streamlining the process of connecting with LinkedIn users beyond the app itself. The Audience Network allows advertisers to broaden their campaigns across third-party websites partnered with LinkedIn, providing millions of opportunities for professional brand exposure. These latest enhancements promise to optimize the display of Audience Network content, making it even more effective for brands seeking to expand their reach. 04.14.2023
Unlock LinkedIn Video Success: Study Reveals Top Tips from 16K Campaigns: Video content consistently garners the highest engagement rates on LinkedIn, making it a crucial aspect for marketers aiming to optimize their messaging. To pinpoint the most effective strategies for LinkedIn video promotions, VidMob conducted a comprehensive study in partnership with LinkedIn. By analyzing over 16,000 video ads that generated over 804 million total in-stream impressions, the research offers valuable insights and tips for marketers looking to make their mark with LinkedIn video campaigns. 04.14.2023
Unveiling LinkedIn's Recruitment Trends Report: Key Insights for HR Pros: LinkedIn has released a comprehensive report on the latest recruitment trends, drawing from interviews with numerous HR professionals and LinkedIn user data to identify significant shifts and changes in the industry. The extensive 29-page global report delves into overarching recruitment patterns, while regional reports offer in-depth analyses of specific markets. Examining five critical aspects of the recruiting process— the role of recruiting, the impact of economic uncertainty, employer branding, and skills-first hiring— this valuable report provides essential insights for HR professionals navigating today's job market. 04.14.2023
LinkedIn's Latest Feature: Algorithmic 'Suggested Posts' for Enhanced Engagement: Joining the ranks of other social media platforms, LinkedIn is now integrating algorithmically recommended content from across its network by introducing 'Suggested Posts.' These posts, curated based on user interests, will be prominently displayed in-stream to boost engagement and provide a more personalized experience. This innovative feature keeps users informed and connected with relevant content tailored to their preferences. 04.14.2023
LinkedIn Adds Native Post Scheduling and Audio Event Options for Brand Pages: LinkedIn has launched a new native post-scheduling feature for company pages, allowing users to select a date and time for their posts to go live. Company pages can also now follow other pages in the app and share an automated post when they add an open job listing. Additionally, LinkedIn has introduced audio events for Company Pages, providing another way to engage with on-platform audiences. These updates are part of the platform's latest feature overhaul to enhance the user experience and increase engagement. 03.24.2023
LinkedIn Introduces AI-Generated Profile Summaries and Job Listings: LinkedIn is leveraging AI technology to enhance its platform. Integrating OpenAI's conversational GPT back-end into most of its apps and functions will enable LinkedIn to offer new options for profile creation and AI-generated job descriptions. LinkedIn is also providing educational opportunities in AI tech through LinkedIn Learning. Additionally, the platform is testing an AI-powered job description tool that will streamline the job description writing process. 3.16.2023
LinkedIn Creates Podcast Academy to Grow Podcast Network: LinkedIn is launching a Podcast Academy to help aspiring podcasters gain the skills they need to create successful shows. This initiative builds upon the LinkedIn Podcast Network, a series of podcasts branded by LinkedIn, launched in February last year. The Podcast Academy will support emerging podcast hosts as part of the company's efforts to expand its podcast network. 3.16.2023
LinkedIn Launches Collaborative Articles: Coming off the ChatGPT craze, LinkedIn has launched AI-powered Collaborative Articles. The LinkedIn editorial team publishes the articles, and AI is used to match the topic with the LinkedIn Skills Graph, where they contribute personal stories, experiences, and life lessons. 3.6.2023
LinkedIn Launches New Creator Analytics: This just in. LinkedIn has added additional insights to help creators track their performance on the platform, including follower growth data, new demographic insights, and top-performing posts. 12.7.2022
LinkedIn Adds New Capabilities for Brand Pages: LinkedIn just launched more features for company pages, including new ways to highlight and optimize LinkedIn Newsletters. They give brands the tools to drive maximum content discovery across the LinkedIn Network and Google. Company pages can add SEO titles, descriptions, and tags when they upload their LinkedIn Newsletter. They have also rolled out new features for product pages, making them more discoverable in LinkedIn searches. LinkedIn also added competitor analytics to track your top competitors' audience growth, post-performance, and post-engagement rates. 12.01.2022.
LinkedIn Adds More Stickers to Increase Engagement: a few months ago, LinkedIn launched link stickers which could be used to link images and videos and drive traffic back to a website. They are currently working on adding stickers that could link to internal profiles, company pages, and more. 10.24.2022
LinkedIn's New Security Features Help Prevent Fake Profiles: LinkedIn has released some features to fight fake profiles and misuse of the platform. They are releasing a new "About this profile" section that gives LinkedIn users more information about the profile– when it was created, and they have a verified phone number or work email address.
LinkedIn Introduces New Accessibility Features for Users: LinkedIn has introduced several new accessibility features. To increase accessibility for those with visual impairments, they have added auto-captions to videos and allow users to watch videos in high-contrast mode. Additionally, LinkedIn is increasing the prominence of accessible job postings in the app.
LinkedIn Continues to Add New Features for Brand Pages: In a recent LinkedIn blog post, they announced several new features for company pages. First, they just released post templates, making it easier for brands to create content without 3rd party apps. They have also released link stickers, which enable brands to add clickable links to photos and videos. Lastly, they allow brands to create a new section called "Our Featured Commitments," where businesses can outline their brand values.
LinkedIn Announces Multiple Upgrades to Their Ad Platform: LinkedIn continues to innovate in several areas of its business. They just announced launching new tools to help B2B marketers maximize their campaigns, including Document Ads (long-form content), offline conversion data integration, and the LinkedIn Media Library for storing and finding new advertising content.
LinkedIn Testing 'Focused Inbox': LinkedIn has announced that they are testing a new Focused Inbox, which will work similarly to email clients like Gmail and Outlook. The most relevant messages (and InMails) will appear on the Focused inbox, and the other messages will appear in the 'Other' tab. Users can move messages back and forth between each inbox, allowing LinkedIn to get smarter about where messages initially appear. With all the messages I get from people trying to sell me something, this is one product update I'm looking forward to.
LinkedIn Working to Improve Features for Creators and Brands: LinkedIn's expected to soon be rolling out native post scheduling within the app. This is an excellent move as it will give creators more tools to build their marketing strategies. Larger enterprise companies that use social media marketing software have enjoyed this feature for years.
Pinning Comments Now Available on LinkedIn: LinkedIn finally joins its peers by allowing users to pin comments to their posts. This feature can be useful for highlighting thoughtful responses and commentary, driving more sticky conversations in the app.
LinkedIn is Improving its Search Results: It's no secret that LinkedIn engagement continues to rise globally. They recently shared an overview of how they will refine the search results and improve the discovery of quality content. This is good news for all LinkedIn users.
LinkedIn Adds New Template Posts For Creators: As visual content and storytelling dominate social media feeds, LinkedIn will allow you to add a clickable link directly to your images and videos. This is an excellent opportunity to drive your audience to your website, blog, event, newsletter, etc. It'll be interesting to see how the LinkedIn algorithm highlights organic posts that link to an external site versus those that don't.
LinkedIn Testing New 'Discover' feed: I never get access to "new features" before anyone else. I just read about them and am waiting for access. LinkedIn is launching a new 'Discover' feed for more contextual content, job updates, and more. Discovering new content, creators, and influencers drives more in-app engagement.
LinkedIn Adds' Diversity Nudges" on Recruiter Product: A DE&I initiative that will help to hire managers and staffing teams if gender representation in a candidate search is unbalanced. A notification will let you know the search's Male/Female ratio. You'll also receive recommendations of Skills, Locations, and Companies filters you can add to your search to improve the gender balance.
LinkedIn Releases New' Event Framework' for Businesses: Virtual and in-person events will always be a core staple in B2B marketing. The LinkedIn Event Resource Toolkit is an excellent resource with best practices across the event lifecycle, mapping event types with marketing objectives, considerations for live or prerecorded events, and more.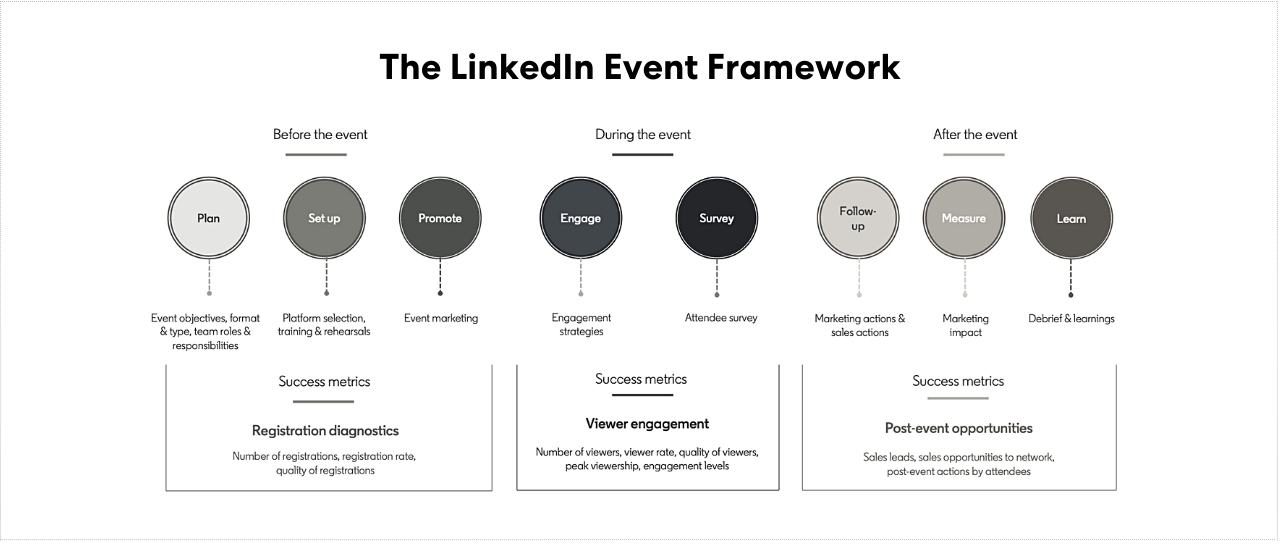 LinkedIn Collective: A B2B Community: LinkedIn recently launched a new community creative work that B2B marketers are doing in the industry. I wrote a longer perspective on why LinkedIn Collective is long overdue and a great step forward for the industry.
LinkedIn Testing Native Carousel Posting for Creators: LinkedIn continues to expand its toolset for creators and power users. They recently announced a new carousel posting option for users. I'm interested to see what the engagement will be on these posts. Many marketers upload PDF documents with multiple pages, serving similar functionality to a carousel. From my experience, these posts' engagement levels are five times higher than posting a standard image.
---
See below for all the latest product updates and features from the other social media channels: