A customer archetype is an abstract representation of a customer segment. A brand archetype is a set of characteristics and values representing a brand and its values.
Why this matters:
It is essential to know the difference between a customer and brand archetype and where it fits into your more considerable customer analysis and research.
By the numbers:
57% of marketers are looking to hire talent with data analytics skills
91% of marketers with direct access to customer data say it provides them a competitive advantage
47% of brands who exceed revenue goals report themselves to be consistently effective at maintaining personas.
Customer and brand archetypes can be used together to effectively define, understand and engage an audience by mapping brand values to the characteristics of a particular customer segment. This can help create a compelling and focused message that will resonate with this audience.
In both cases, archetypes can be built using primary/secondary research data, audience analytics, landscape analysis, web, and first-party data.
What is a Customer Archetype?
Customer archetypes are representations of the characteristics and motivations of certain groups of customers. It helps to identify the target customer, what they need and value, and how best to communicate with them.
It's an abstract and symbolic view of an audience, a collection of traits and features that define the ideal customer. A customer archetype is NOT an audience or buyer persona. Personas should be built and visualized using accurate data and insights, not inspiring words and behaviors. Below is a customer archetype example of a Gen Z sneakerhead.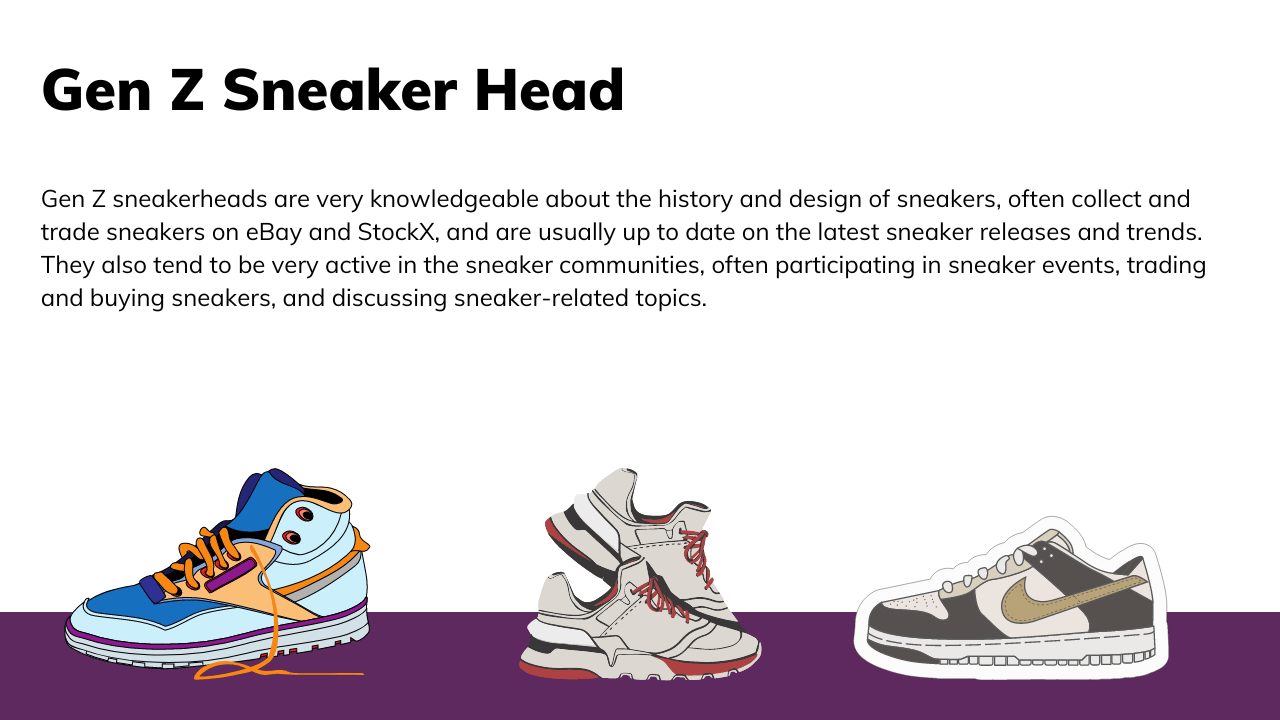 You'll notice that this example is vague and inspirational. It's meant to set the tone for how a brand can interact with this segment rather than be an exact representation of it.
This is an example of a buyer persona. You'll notice it's a lot more detailed and provides actionable insights that you can use to inform your marketing programs.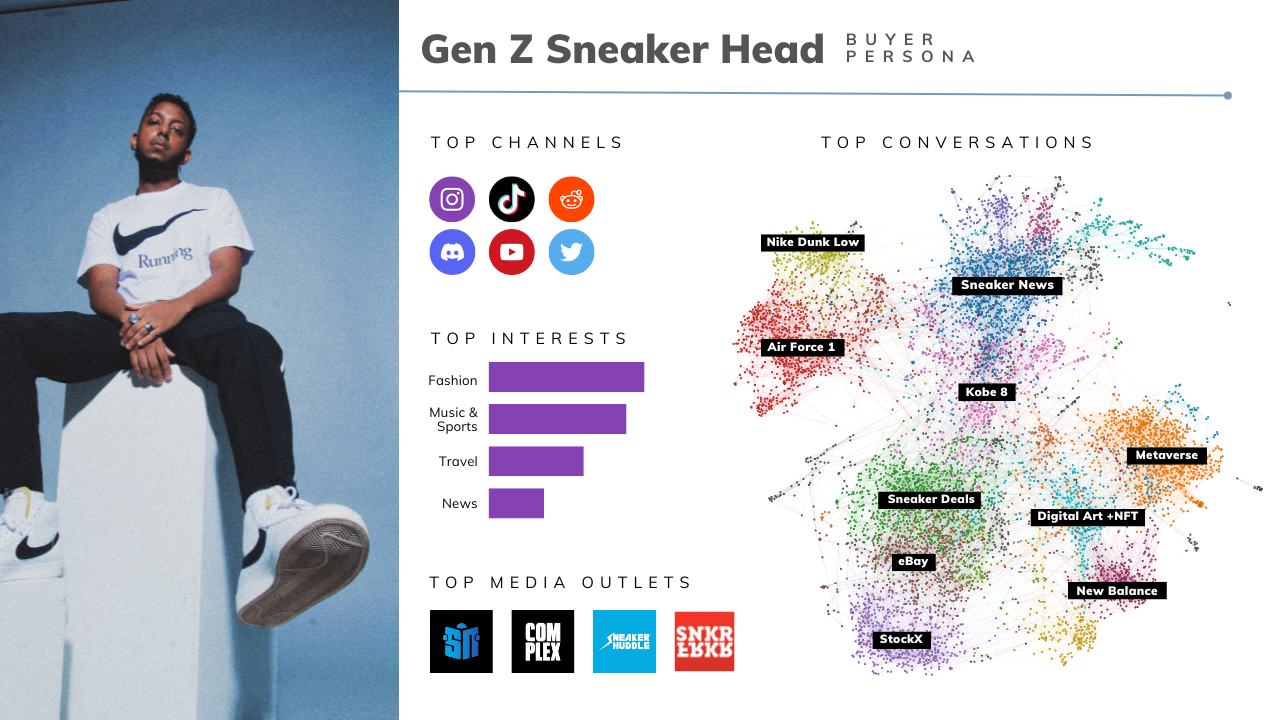 What is a Brand Archetype?
A brand archetype is different. First, it represents a symbolic representation of a brand's underlying values, ideas, and emotions. It provides an archetype or 'template' for representing the brand across different mediums, such as advertising and packaging.
Brand archetypes were created by Carl Jung and are often used in marketing to create a more effective and consistent brand identity. Brand archetypes typically fall into one of twelve categories representing characteristics or personality traits such as trustworthiness, creativity, leadership, and courage. These include the Caregiver, Rebel, Everyman, Explorer, Hero, Outlaw, Creator, Magician, Lover, Ruler, Innocent, and Sage archetypes.
Each of these archetypes helps to capture the essence of a brand and can be used to establish an emotional connection with the audience.
Drilling Down on Carl Jung's 12 Brand Archetypes
Here's a description of Carl Jung's 12 brand archetypes with brand examples.
The Creator Archetype
The creator brand archetype is focused on innovating and inspiring others to create. Brands that embody this brand archetype are passionate about creating something new and inspiring others to do the same.
They emphasize creativity, originality, and innovation and celebrate the power of imagination. This archetype is based on the idea that creativity can positively change the world. Brands that represent the creator archetype include Adobe, Lego, and Crayola.
The Sage Archetype
The sage archetype is all about wisdom and understanding. Brands that embody this archetype emphasize knowledge and expertise as a path to understanding the world around us. They promote education, research, and self-reflection to unlock new insights.
This brand archetype is based on the idea of transformation. Its main purpose is to make people believe that anything is possible. Brands that represent this archetype include Google, NPR, and PBS.
The Caregiver Archetype
The caregiver archetype is a fascinating one. A brand that embodies this archetype tends to be kind and nurturing, catering to the needs of its customers. They prioritize selflessness, providing comfort and guidance to those around them. In addition, caregiver brands embody generosity, demonstrating a deep understanding of those in need and showing endless compassion through targeted campaigns and messaging.
The caregiver archetype is based on protecting and caring for others. Its primary purpose is to make people feel safe, secure, and cared for. Brands representing this archetype include Johnson & Johnson, The Salvation Army, and Campbell's Soup.
The Innocent Archetype
The innocent archetype is focused on simplicity, optimism, and purity. Brands that embody this archetype emphasize the value of innocence and promote a sense of optimism and trustworthiness.
This archetype is based on the idea of being true to oneself. Its primary purpose is to inspire people to stay true to their values and pursue dreams with passion and integrity. Brands representing the innocent archetype include Coca-Cola, Nintendo Wii, and Fisher-Price.
The Jester Archetype
The jester archetype is focused on fun, playfulness, and humor. Brands that embody this archetype emphasize entertainment and joy as a way of life. In addition, they promote the idea of taking time to enjoy life's little pleasures.
This archetype is based on the idea of having a good time. Its primary purpose is to encourage people to find joy in everyday life and have fun along the journey. Brands representing the jester archetype include Skittles, Old Spice, and Taco Bell.
The Magician Archetype
The magician archetype is focused on mystery, transformation, and intellectual power. Brands that embody this archetype emphasize the power of knowledge and promote the idea that anyone can make a difference.
This archetype is based on the idea that we can transform anything using our minds. It encourages people to open their minds and explore uncharted territories to find answers to the world's most pressing questions. Brands representing the magician archetype include National Geographic, Discovery Channel, and Absolut.
The Ruler Archetype
The ruler archetype is focused on leadership, control, and success. Brands that embody this archetype emphasize ambition and power. They promote the idea that hard work will be rewarded with success and influence.
This archetype is based on the idea of authority. Its primary purpose is to inspire people to strive for greatness by taking control of their lives. Brands that represent the ruler archetype include Mercedes-Benz, Rolex, and Microsoft.
The Hero Archetype
The hero archetype is all about courage, strength, and resilience. They are the ones who can be depended on to get things done and fight for what's right. Brands that embody this archetype focus on values such as honor and justice, advocating for those in need.
They inspire people to be courageous and fight for what they believe in. This archetype is based on the idea of courage and selflessness. Its primary purpose is to inspire people to be brave, strong, and heroic. Brands that represent the hero archetype include Nike, FedEx, and BMW.
The Everyman Archetype
The Everyman brand archetype is focused on the idea of solidarity and unity. Brands that embody this archetype prioritize accessibility, approachability, and democratic values. They want to ensure that everyone feels included, regardless of their background, ethnicity, or social status.
This archetype is based on the idea that we are all equal and should be accepted for who we are. Brands that represent the Everyman archetype include Walmart, Ikea, and Amazon.
The Rebel Archetype
The rebel archetype symbolizes defiance, standing up for your beliefs, and challenging the status quo. It represents those willing to take risks and stand up for their beliefs, even when it goes against popular opinion. It's about being independent and taking a stand against whatever doesn't feel right.
Brands representing the rebel archetype are often seen as pioneers and innovators, standing out from the crowd. These brands include Harley Davidson, Diesel Jeans, and Red Bull.
The Explorer Archetype
The explorer archetype is based on adventure, discovery, and self-realization. Brands that embody this archetype promote exploration and freedom. They strive to push boundaries and encourage others to do the same without worrying about the risks.
This archetype is about living a life of discovery, inspiring others to explore the unknown and find new paths. Brands representing the explorer archetype include Patagonia, REI, and North Face.
The Lover Archetype
The lover archetype is focused on intimacy, connection, and passion. Brands that embody this archetype emphasize the importance of relationships and promote a sense of belonging, consideration, and self-expression.
This archetype is based on the idea that relationships can bring out the best in us. Its primary purpose is to inspire people to be compassionate, rooted in the belief that relationships and connection are essential for a meaningful life. Brands representing the lover archetype include Victoria's Secret, Chanel, and Haagen Dazs.
Archetypes are powerful tools that can be used to craft powerful and attractive brand identities. Different archetypes evoke different emotions, making it essential to choose the right one for your brand to make a lasting impact on your audience.
Understanding each archetype and its associated values can create a solid and compelling brand identity that resonates with your target audience. Effective brand identity will have people associating your brand with the values behind its chosen archetype, giving it a highly recognizable brand persona.
The Disconnect With Brand Archetypes
The problem with archetypes is that your view of your brand doesn't translate into what your customer thinks. For example, a brand may think it is the hero, while its customers might see it as a rebel. This disconnect can cause confusion and frustration when marketing messages don't align with customer expectations.
It's essential to take the time to understand how your audience perceives your brand and adjust or refine your archetype to reflect that perception better. Doing so will help you develop a stronger identity for your brand and ensure better alignment between what you're trying to portray and how customers experience it.