Content is king. Yeah yeah, we know, we know. Every content marketing blog post starts by saying something clever about kings, queens, and whatever.
But creating and delivering high-quality creative content consistently is challenging for most brands. The market is fast. Social media is fast. Users scroll through the feeds fast, and most brands are slow.
This is where agile content marketing comes in. Agile content marketing is a model that accelerates how brands can ideate, create, produce and distribute brand stories quickly. It's a model that brands must adapt to stay competitive and relevant in the marketplace.
But don't take my word for it. Last year, a Deloitte report said the same thing but slightly different. The report called for brands to pivot because the pandemic forced rapid changes in consumer behavior. So the pandemic just accelerated the evolution that was already happening.
However, adopting an agile content creation approach requires a strategy shift. Once the strategy is in place, it'll be easier for you to execute quickly and efficiently.
Adopting an Agile Content Strategy
An agile content strategy is a flexible and adaptable approach to content creation that will help you keep up with the dynamic landscape of the digital ecosystem, soon to be the Metaverse.
At this point in today's world, it's table stakes.
Brands need to think about creating a content engine that is agile enough to meet the needs of an audience and quickly respond to new trends and technologies.
A traditional, linear content strategy can't keep up with the constant changes in customers, expectations, and buying habits. An agile content strategy should be flexible and adaptable, enabling you to pivot your content strategy as needed quickly.
What is Agile Content Marketing?
Agile content marketing is a methodology that focuses on creating and delivering shareable content in a flexible, rapid, and responsive to customer needs.
The fundamental principles of agile content marketing are repetition, relevance, and value. Repetition is necessary to drill down on messaging and remind audiences of what makes your product or service the best in the market. The key is to deliver this content across the whole omnichannel marketing experience.
Relevance is about understanding your customer's needs and aligning your narrative and message points to those needs. This is one of the hardest things because most marketers need to be 100% "on message." The problem with that thinking is that the audience doesn't care. It's not relevant to what they want or need.
Value is about creating content that is useful and informative without being promotional. This is the sweet spot for brands, but it's also tough to do.
Here's a quick example.
Let's assume you work for a hardware store like Home Depot. Your marketing goal undoubtedly is rooted in sales and revenue for the company. But, ultimately, you want to drive conversions on an e-commerce site or get customers to enjoy the retail experience and spend lots of money.
Using social listening, your team notices a lot of conversations on social media about DIY home repairs. For example, one person is complaining about a stripped screw, and another is talking about a squeaky garage door.
Your team decided to launch a series of short-form social videos focused on DIY and the issues you are hearing through social media monitoring. Your goal is to provide content that helps your customers and potential customers solve their problems without buying anything online or coming to the store.
You post the videos on YouTube, Instagram, TikTok, and Twitter each week; you post a new DIY video to help your customers solve problems using various hacks. On the surface, this might not seem like an intelligent strategy. Why would you create content that would prevent customers from purchasing products online or coming into the store?
It's a good question so let me explain.
It goes back to having an agile content marketing strategy. Agile content marketing is like working in a newsroom. Those who work in traditional newsrooms are responsible for reacting to what's happening in the world or local communities and being ready to engage quickly. Reporters, creatives, producers, and the entire support staff is prepared to create a story at a moment's notice.
In this example, Home Depot would respond to conversations on social media and react with agile content.
The content is relevant because you are helping your customers solve a problem they're dealing with at home. It's also applicable to the brand. Indeed, you could have responded to some of those conversations with links to products that would help with a stripped screw. Maybe that could have resulted in a couple of 100 dollars in sales. But in this case, you are providing long-term value, and the small things like this create customers for life.
Also, by posting this video on YouTube, you are increasing the shelf life of that content to live in the search results for "forever." Every customer and potential customer who has a problem with a stripped screw in the future will most likely stumble across your video through a Google search.
And here's the beauty about agile content creation, when those customers are ready to buy some lumber, repaint their house, or invest in a new kitchen, guess which brand will be top of mind for them?
Yup, Home Depot.
Implementing an Agile Content Strategy
It's straightforward to talk about agile content marketing, and I oversimplified the Home Depot example. However, executing a strategy in the real world requires a fundamental shift in three areas of your business–people, process, and technology.
These are the three pillars you must consider when building an agile content marketing team.
The 2021 State of Digital Content: Benchmarks for Building an Agile Content System from Altimeter was published in April 2021.
An agile content system is a set of specialized practices that allow companies to produce a large amount of content in a relatively short time. The agile element refers to deploying the right type of content at the right time and to the right person.
The report talks about the need for brands to invest in an innovative and integrated set of capabilities in what they refer to as an "Agile Content System." This includes:
An approach to agile content creation that uses data to personalize an experience.
A robust measurement framework goes beyond impressions and awareness, focusing on delivering business value.
Integrated approval processes and workflows will help facilitate agile content movement from ideation to creation and distribution.
Technology that can store, manage, and tag content of all types.
The right organizational structure can scale agile content creation and report without compromising the larger digital marketing strategy.
It's no secret that data-driven marketing is becoming increasingly important in the age of digital media. As customers leave behind a growing trail of data, there's more opportunity to personalize customer experiences and create agile content. However, the Altimeter report identifies this interesting challenge.
23% state that producing relevant content based on customer data is a challenge
This suggests that many brands are not using data effectively to inform their digital marketing strategy. Additional data points from the report include:
Aligning multiple teams around a unified content strategy
Hiring the right skills and people
Producing personalized content at a large scale
Getting support from the executive leadership
Purchasing or integrating the right software
Difficulty improving ROI or business impact of content marketing
These are all relevant data points, and most marketers have struggled with many of these issues in their careers. However, if you think about it, most of these challenges fall into one of the three pillars mentioned above­–people, process, and platforms. Building an agile content strategy considers each of these pillars, integrates each component, and operationalizes what I would call the content engine.
Building a Team With a Newsroom Mindset
The People, Process & Platform Framework is an older business method used to illustrate all the moving pieces needed to drive change in organizations. Building an agile content strategy requires different thinking, hiring, and organizing, so it's an effective model.
When you think through the "People" portion of this model, you need to consider the organization of the team and the talent you hire. Typically, content marketing teams report up to marketing.
However, in many cases, it will report to a content team adjacent to marketing mainly because it provides assets for marketing and the entire organization like sales and customer success. In other cases, a distributed content marketing team would report to the product organization and work cross-functionally. This model is more difficult if you want to produce agile content due to the decentralization of content.
In terms of talent, you will need to think about the following roles:
Content Strategist: A natural-born storyteller who can turn words into poetry, whether long-form, short-form, headlines, captions, and even 1200-word articles.
Creative: Someone who doesn't need a brief to create something awesome–animation, video, motion photography, and everything.
Digital Strategist: Someone who knows how all the platforms work together and launch ads across all platforms
Analyst: A scrum-master who can pull an insight out of data and maybe even come up with a cool headline
Community Manager: This person will be engaging with the community, escalating potential issues and trendspotting.
Generally, these are all the roles you need on an agile content team. Of course, there are exceptions to this rule, but these are the primary roles. The notable exception is a designer. I've found that in most cases, the creative can double as a designer or be part of a design team that works closely with the content marketing team.
Operationalize Agile Content Creation
The "Process" portion of the model is all about the editorial and creative workflows. I like to refer to this as content operations. A supply chain is a network between a company and its suppliers to produce and distribute a specific product to the final customer. In this case, the product starts with an idea, and creating content should be just as efficient as any other type of supply chain.
In an agile content strategy, you must consider how you will ideate, create, curate, approve and publish content across the digital ecosystem. Building processes that will facilitate the movement of the content may take some time before it's streamlined, but it will be worth the investment.
Invest in the Right Agile Content Technology
The last portion of the model is Platforms. In this case, platforms refer to the technology investments needed to execute an agile content strategy. These could be anything from a project management tool like Monday.com or Trello to a social media content publishing platform like CoSchedule, Contently, or Kapost.
There are many options available, and the best way to determine what will work for your team is to do a trial run with a couple of different tools. The most important thing is that the technology you choose facilitates collaboration, speeds up processes, and makes publishing content across multiple channels easy.
An agile content strategy is not about working faster or producing more content but working smarter. It's a way to streamline your content creation process so you can focus on producing quality content that drives results. By following the steps outlined in this post, you can start operationalizing an agile content strategy for your business.
What are the top Content Marketing Platforms?
It's easy to get overwhelmed when considering what software to include in your marketing tech stack.
And this type of software should not be confused with social media management platforms. While these tools might be good for creative and social content, using them with long-form content like articles, ebooks, and white papers is challenging.
In the world of agile content marketing, there are many platforms that you can choose from. Here are a few of the top content marketing platforms:
---
Contently is a content marketing platform that can help you create and manage high-quality content. The platform provides tools to help you plan, produce, and measure content marketing programs. Contently also offers a talent network of freelance writers, editors, and designers to help you create custom agile content. In addition, the platform provides deep analytics that can help you understand how your content is performing across all digital channels. The Contently platform is used by some leading brands, including Coca-Cola, General Electric, and Marriott.
---
Percolate is a cloud-based content marketing platform that enables you to plan, produce, and measure agile content marketing. The platform provides a centralized content calendar that helps you plan and track your content creation process. In addition, Percolate offers a range of tools for creating and managing digital assets, such as images, videos, and blog posts.
They have strong analytics capabilities that can help you track the performance of your content across various channels. Overall, Percolate provides an all-in-one solution for content marketing that can streamline content development and distribution, including an AI-powered agile content recommendations engine.
---
Kapost is a cloud-based content marketing platform that enables you to plan, produce, and optimize content. The platform provides a central hub for all content assets, making it easy to collaborate with team members and track content performance. Kapost also features a robust set of tools for creating, editing, and curating content.
With Kapost, you can quickly develop high-quality agile content tailored to your audience. In addition, the platform provides detailed analytics that allows you to measure the impact of your content and make necessary adjustments. Overall, Kapost is an essential tool for any serious organization about content marketing. It provides a streamlined way to create and manage high-quality content while also insights into how that content is performing.
---
DivvyHQ is a content management platform that helps businesses streamline content creation. It provides a centralized workspace for managing projects, deadlines, and team members. The platform also includes tools for optimizing content distribution and measuring performance. In addition, DivvyHQ offers a range of integrations with popular productivity tools, making it easy to incorporate into existing workflows. Overall, DivvyHQ is an effective solution for businesses that need to produce high-quality content regularly.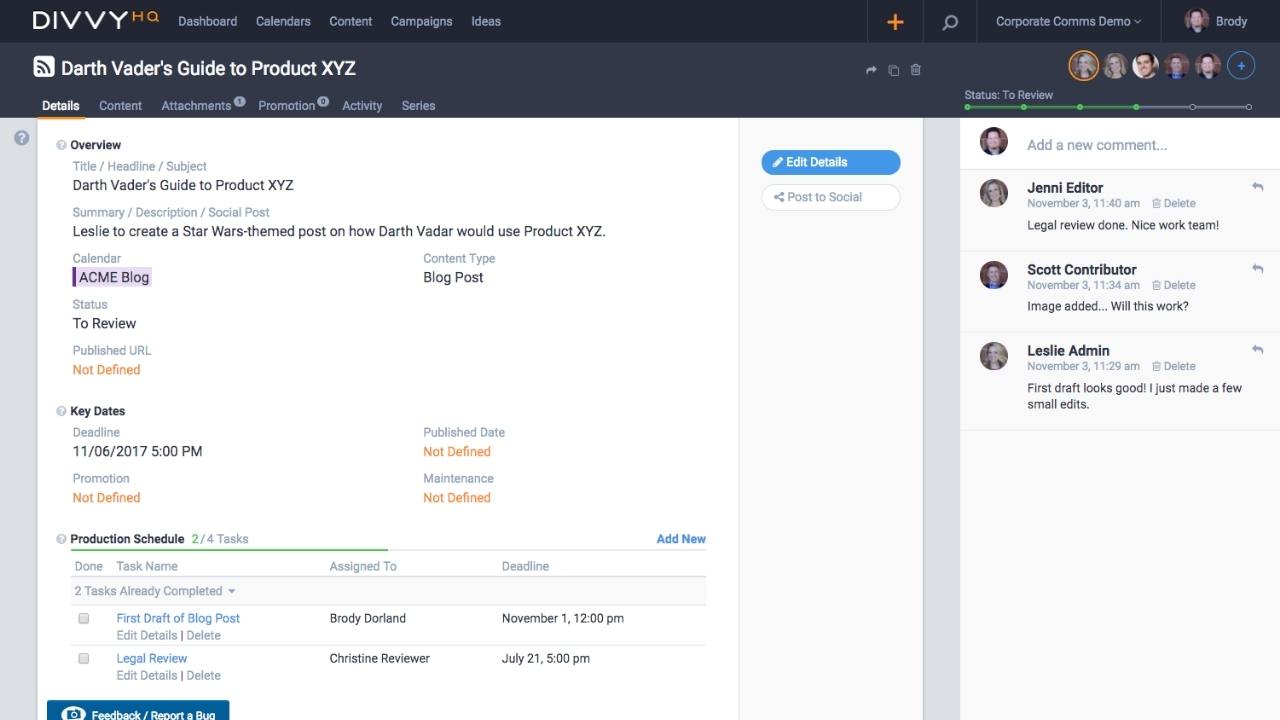 ---
Newscred is a content platform that helps publishers and brands create, curate, and manage high-quality content. The platform provides access to a vast library of articles, videos, photos, and tools for collaboration and workflow management.
Newscred also offers analytical tools to help you understand your content's performance and make data-driven decisions about future content strategy. In addition, the platform provides a marketplace for content creators, allowing brands and publishers to connect with freelancers and other content providers. Ultimately, Newscred is designed to help users save time and money while producing better content.
---
CoSchedule is a popular content platform that helps content marketers plan, publish, optimize, and measure their results. The platform includes a content calendar, editorial workflow, and social media tools. With CoSchedule, users can easily see when their content is scheduled to go live, track its performance, and make changes on the fly. The platform also allows users to collaborate with team members and share ideas. In addition, CoSchedule integrates with primary marketing tools like Google Analytics and HubSpot.
The CoSchedule Headline Analyzer is a free online tool that helps users write compelling headlines for their blog posts, articles, and emails. In addition, the analyzer will suggest ways to improve your headline for maximum impact.
---
The Skyword360 Content Marketing Platform is a powerful tool that helps brands plan, create, optimize, and measure their content marketing efforts. The platform provides users with a comprehensive content calendar, allowing them to see all their content in one place and plan their campaigns accordingly. The Skyword360 Content Marketing Platform includes features that help brands create high-quality content, such as an integrated content library and a drag-and-drop editor. Once the content is completed, the platform provides users with tools to optimize their content for search engines and social media. Finally, the platform tracks engagement metrics, allowing users to see which pieces of content are performing well and make necessary adjustments.
All of these platforms offer different features and pricing models. The best way to find the right one for your business is to try a few options and see which one works best for your needs.
An agile content strategy is not about working faster or producing more content but working smarter. It's a way to streamline your content creation process so you can focus on producing quality content that drives results. By following the steps outlined in this post, you can operationalize and integrate agility into your B2B marketing strategy.